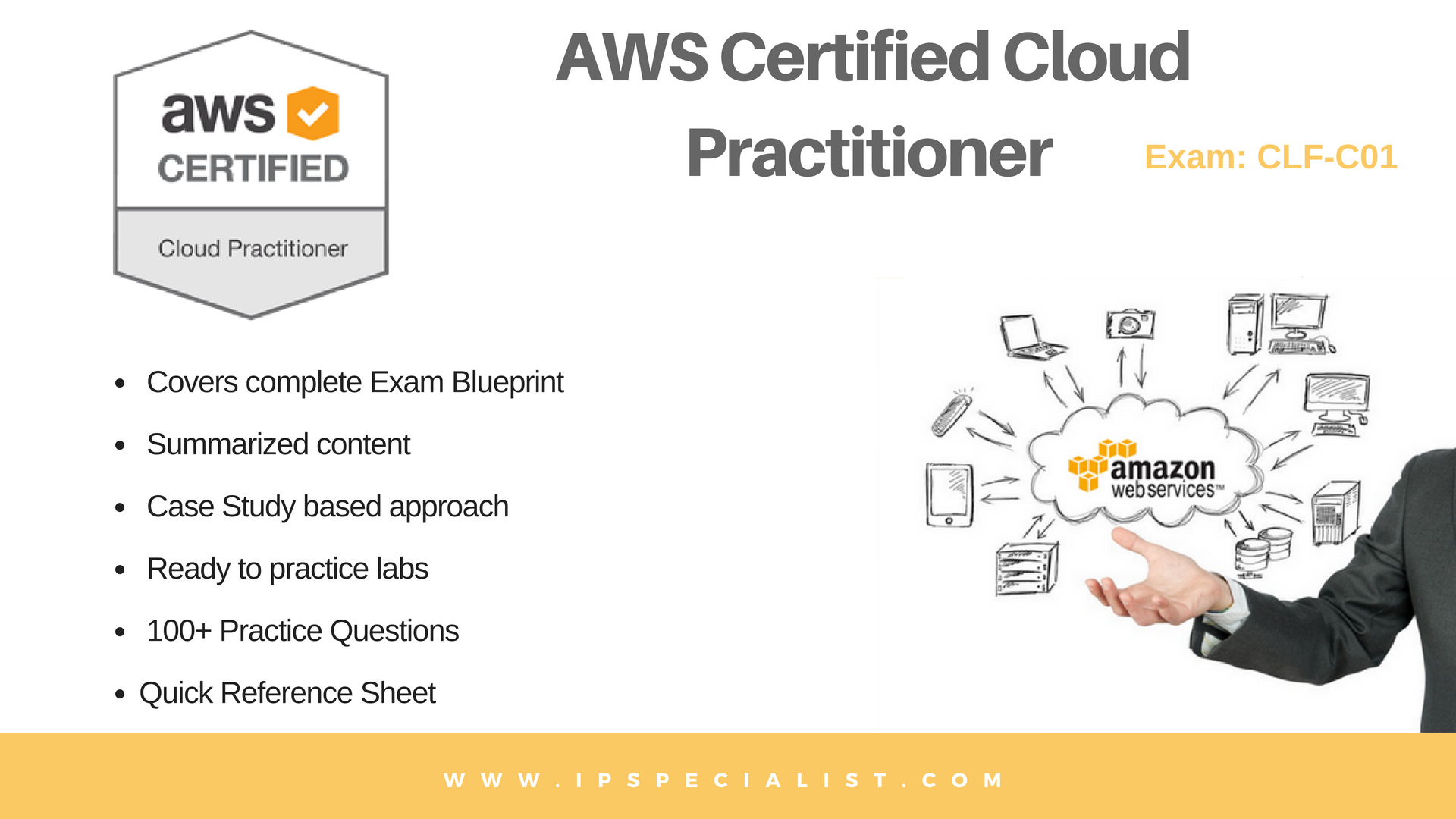 AWS Cloud Practitioner
Exam: CLF-C01
The AWS certified Cloud Practitioner CLF-C01 examination is meant for individuals who have the know-how and competencies to effectively show the basic expertise of the AWS Cloud, unbiased of specific technical roles addressed by means of different AWS certifications (e.g., answers Architect – companion, Developer – associate, or SysOps Administrator – associate).
AWS Certifications are industry-identified credentials that validate your technical cloud abilities and know-how and at the same time help your career to grow. These are among the maximum treasured IT certifications right now, keeping in consideration that AWS has mounted an awesome lead within the public cloud market. Despite the presence of numerous tough competitors, which includes Microsoft Azure, Google Cloud Engine, and Rackspace, AWS is by far the most dominant public cloud platform these days. It comes with a remarkable collection of proprietary services
What is AWS Cloud Practitioner?
The certification will offer you an excessive stage assessment on what AWS Cloud is all about. The examination covers four domains i.e. AWS core offerings, cloud principles, security aspect, pricing and client support offerings. AWS Certified Cloud Practitioner is a brand new entry-stage certification and enables individuals to validate their understanding of the AWS Cloud with an industry-recognized credential.
AWS Cloud and its simple global infrastructure
AWS Cloud architectural ideas
Billing, account management, and pricing fashion
AWS Cloud value proposition
Documentation or technical assistance (e.g. whitepapers or support                 tickets)
All Characteristics of deploying and operating within the AWS.
Simple protection and compliance elements of AWS platform
IP Specialist courses are ideally crafted courses that will guide you through the process of developing concrete skills required to pass the exam and build a successful career in the networking field. These Workbooks have been created in order to cover the previous exam patterns and official exam blueprint. Our technology workbooks practically explain all the concepts with the help of real-life case-study based labs. The content covered in our technology workbooks consist of individually focused technology topics presented in an easy-to-follow, clear, precise, and step-by-step manner considering the individual needs. In our technology workbooks, technology breakdown and methodical verification help you understand the scenario and related concepts with ease. We extensively used mind maps in our workbooks to visually explain the technology. Our workbooks have become a widely used tool to learn and remember the information effectively.
Get 20% instant discount when shared to your social account
*Product must be added in cart to apply coupon
Price: $9.99

Become an author & earn with us
If you are interested in becoming an author & want to earn with one time effort. IPS Offers "Earn with us" program for authors & students who have insights on IT related content & want to expand their reach globally can apply for the program here: www.ipspecialist.net/ews
Buy Now