CCNA CyberOps (SECFND) Online Course
CCNA CyberOps (SECFND) Online Course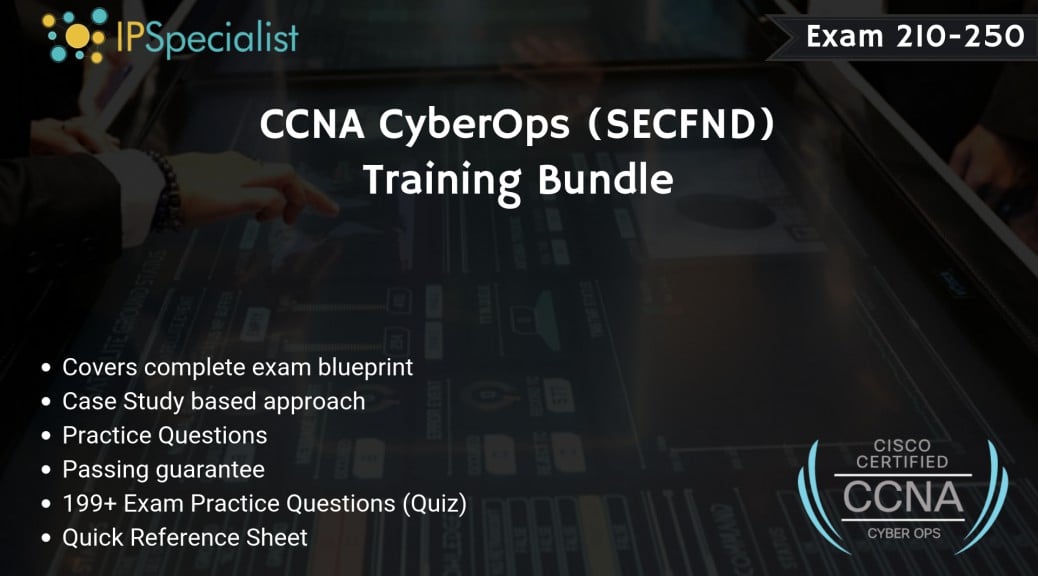 Number of Students Registered
Course Description
CCNA Cyber Ops workbook covers all the information you need to pass the Understanding Cisco Cyber security Fundamentals (SECFND) exam (210-250). It is designed to take a practical approach towards learning with the help of real life examples and case studies.
CCNA Cyber Ops course includes:
Covers complete exam blueprint
Case Study based approach
199+ Practice Questions
Passing guarantee
Mind maps
Table of Content
Chapter 1: Network Concept
Technology Brief
Network Models
TCP/IP and OSI Model:
Function of TCP/IP Layers:
Comparsion of OSI Reference Model and TCP/IP Reference Model:
Protocols
Internet Protocol (IP)
Transmission Control Protocol (TCP)
User Datagram Protocol (UDP)
Internet Control Message Protocol (ICMP)
Network services
Address Resolution Protocol (ARP)
Domain Name System (DNS)
Dynamic Host Configuration Protocol (DHCP)
Network devices
Router
Switch
HUB
BRIDGE 41
Wireless Access Point(WAP) 41
Wireless LAN Controller(WLC)
Network Security System Deployment:
Firewall:
Cisco Intrusion Prevention System (IPS):
Cisco Advanced Malware Protection (AMP):
Web Security Appliance (WSA) / Cisco Cloud Web Security(CWS):
Email Security Appliance (ESA) / Cisco Cloud Email Security (CES)
Cisco IronPort Email Security Appliance
IP Subnets
Main Purpose of a subnet
Advantages of subnetting on private IT systems
Exercise:
Virtual Local Area Networks
Configuring Normal-Range VLANs
Access Control Lists (ACL)
Types of ACLs
Function of an ACL
Wild Card Masks
Basic Packet filtering techniques:
Stateful Inspection:
Summary
Inline Traffic Interrogation and Taps / Traffic Mirroring
Intrusion Detection and Prevention
Networks TAP:
Types of Network TAPs
TAP versus SPAN
Traffic Mirroring
Comparing Taps, Traffic Mirroring and SNMP
TAPs
Utilizing a SPAN port
NetFlow
Data Loss Prevention (DLP):
Cisco Cloud/Hybrid Email Security
Cisco Hybrid Email Security Overview
Practice Questions

Chapter 2: Security Concept
Technology Brief
Security Fundamentals
Physical Security:
Information Security:
Defence-In-Depth
Principles
Security Concepts and Terminologies
Risk
Threats
Vulnerability
Exploit
Threat Actor:
Runbook Automation(RBA)
Chain of Custody (Evidentiary)
Reverse Engineering
Personally Identifiable Information and Protected Health Information
Principle of least privilege
Risk Management Processes and Concept
Access Control Models
Discretionary Access Control (DAC)
Mandatory Access Control (MAC)
Comparing Network and Host based Antiviruses
Anti-Virus Software
Comparing SIEM and Log Collection
SIEM (Security Information and Event Management)
Asset Management
Assets Inventory:
Asset Ownership:
Asset Acceptable:
Asset Classification:
Asset labeling:
Asset Handling:
Media Management
Configuration Management
Mobile device Management
Cisco BYOD structure:
Patch management
Patch Processing
Vulnerability Management
Vulnerability identification:
Vendor's vulnerability announcement:
Vulnerabilities Information Repositories and Aggregators
Vulnerability Scan:
Penetration or Pentesting
Product vulnerability management:
Vulnerability analysis:
Vulnerability remediation:
Practice Questions

Chapter 3: Cryptography
Technology Brief
Key in Cryptography
Uses of Cryptography:
Types of Cryptographic Algorithms
Hash Algorithm
Encryption
Symmetric Algorithms:
Types of Symmetric Key Ciphers
How symmetric key cryptography works?
Asymmetric Encryption Algorithms:
Public key cryptography
Digital Signatures
Example:
Public Key Infrastructure:
Use of PKI
Operations of PKI:
Message Digest Function: MD5
Secure Hashing Algorithm (SHA)
Secure Hash Algorithm 1 (SHA-1)
Secure Hash Algorithm 2 (SHA-2)
Data Encryption Standard (DES):
The security impact of DES:
3DES (Triple DES):
The security impact of 3DES:
Advanced Encryption Standard (AES):
The security impact of AES:
AES256-CTR:
Security Impact of AES256-CTR:
Rivest-Shamir-Adleman Algorithm (RSA):
Security Impact of RSA:
Digital Signature Algorithm (DSA):
The Security Impact of DSA:
Secure Shell (SSH):
Security Impact of SSH:
SSL/TLS:
SSL Certificates
Security Impact of SSL/TLS:
Success or Failure of a Cryptographic
Cipher-suite
ECDH/DH
AES
Uncommon Cipher Suites
X.509 certificates
Key exchange
Protocol version:
PKCS
Mind Map:
Practice Questions

Chapter 4: Host-based Analysis
Microsoft Windows
Process
Thread:
Memory Allocation
Window Registry:
Window Management Instrumentation
Handles
Services
Linux Operating System
Processes
Forks
Permissions
Symlinks
Daemons:
Endpoint Technologies for Security Monitoring
Host-based Intrusion Detection
Antimalware and Antivirus
Host-based Firewall
Application-level whitelisting/blacklisting
System-based Sandboxing
Sandbox Analysis with Cisco AMP
Cisco Advanced Malware Protection AMP Integration Options
Operating System Logs
Window security event log
Unix-based syslog
IIS Access log
Practice Questions

Chapter 5: Security Monitoring
Technology Brief
Data in Different Security Monitoring Technologies
TCP Dump
NetFlow
Next-Generation Firewall (NGFW)
Traditional Stateful Firewall
Application Visibility and Control
Web content filtering
Email Content Filtering
Types of Data in Security Monitoring
Full packet capture
Session Data
Transaction data
Statistical data
Extracted Content
Alert Data
Security Monitoring Concepts
Access Control List (ACL)
Network Address Translation / Port Address Translation
Tunneling
TOR
Encryption:
P2P
Encapsulation:
Load Balancing:
Next-Generation IPS Event Types
Connection Event:
Intrusion Event:
Host or Endpoint Event:
Network Discovery Event:
Netflow event:
Protocols in the context of security monitoring
Domain Name System (DNS)
Network Time Protocol (NTP)
SMTP/POP/IMAP:
HTTP/HTTPS:
Practice Questions
Chapter 6: Attack Methods
Technology Brief
Attack Surfaces and Vulnerabilities
Application Blacklisting and Whitelisting
System-Based Sandboxing:
Network Attacks
Denial of Service
Man-in-the-Middle
Web Application Attacks
SQL injection
Command Injections
Cross-site Scripting
Social Engineering
Phishing
Evasion methods
Endpoint-based
Buffer Overflows
Command and Control (C2)
Malware
Rootkit
Port Scanning
Host Profiling
Evasion Methods
Encryption and Tunneling
Resource Exhaustion
Traffic Fragmentation
Protocol-level Misinterpretation
Traffic Substitution and Insertion
Pivot
Privilege Escalation
Type of Privilege Escalation:
Privilege Escalation Attacks
Remote Exploit and a Local Exploit
Exploit
Types of Exploits
Mind Map
Practice Questions
Answers
Acronyms
References
About Our Products
About Cisco Certifications
Cisco Certifications
Cisco Systems, Inc. is a global technology leader that specializes in networking and communication products and services. The company is probably best known for its routing and switching products, which direct data, voice and video traffic across networks around the world.
Cisco offers one of the most comprehensive vendor-specific certification programs in the world. The Cisco Career Certification program begins at the Entry level, then advances to Associate, Professional and Expert levels, and (for some certifications) caps things off at the Architect level.
Get 20% instant discount when shared to your social account
*Product must be added in cart to apply coupon
Buy Now
Course Materials
Complete Blueprint, Labs Performed, Quick Reference Sheet, Certificate & 199+ Practice Questions Quiz