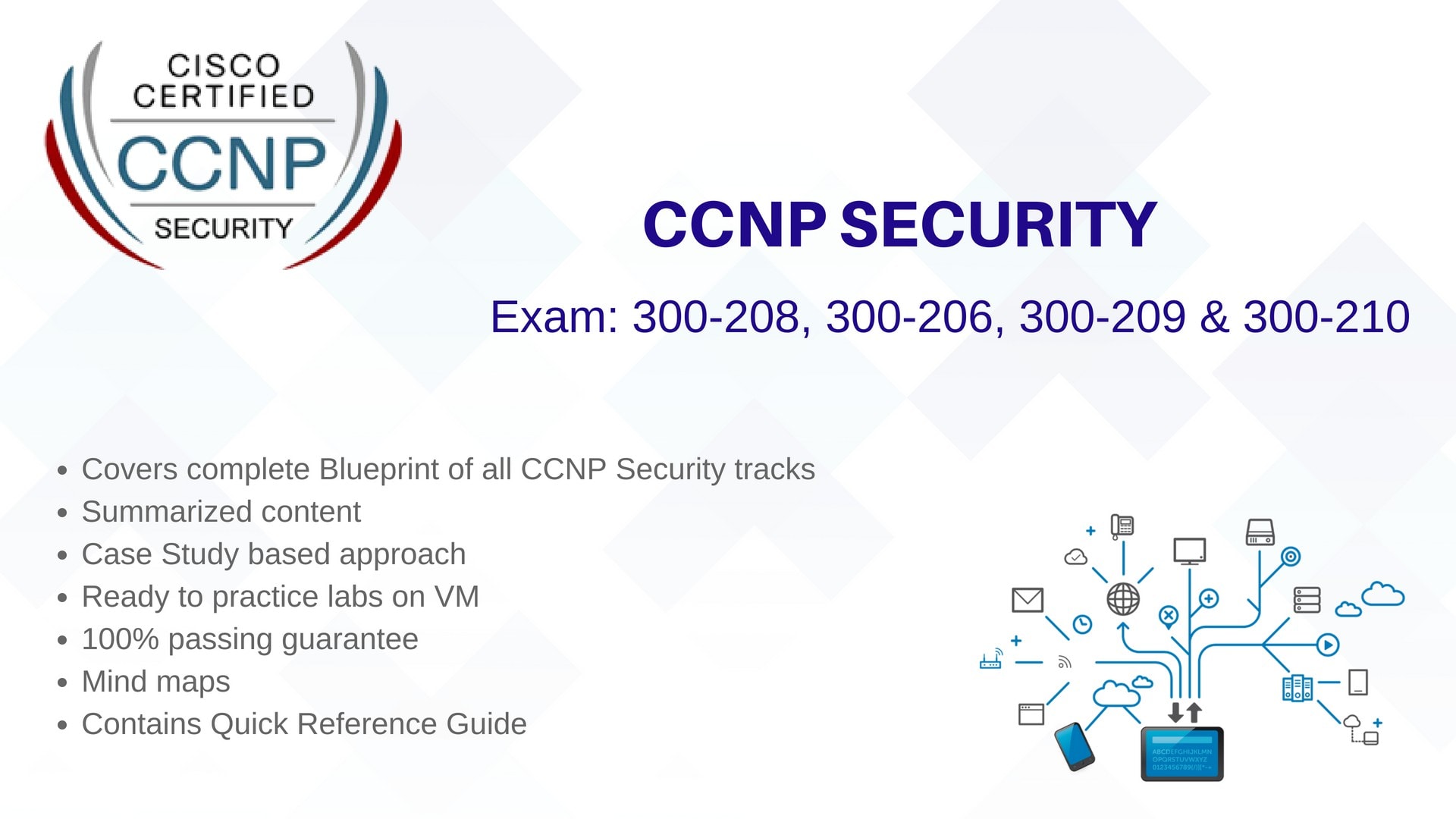 Cisco Certified Network Professional (CCNP) – Security Bundle
Exams: 300-208, 300-206, 300-209 & 300-210
Cisco Certified Network Professional Security (CCNP Security) certification program is aligned specifically to the job role of the Cisco Network Security Engineer responsible for Security in Routers, Switches, Networking devices and appliances, as well as choosing, deploying, supporting and troubleshooting Firewalls, VPNs, and IDS/IPS solutions for their networking environments. This bundle includes the complete blueprint of SISAS, SENSS, SIMOS & SITCS tracks.
Secure Access Solutions (SISAS)
Exam: 300-208
Exam Description
This exam is conducted to make sure that the security engineers have the knowledge of the security components and architecture with the help of 802.1X and Cisco TrustSec. This exam certifies the candidate's familiarity and knowledge of ISE Architecture (Identity Services Engine Architecture), implementation, and all other components like network security threat alleviation and endpoint control solutions. The course includes the fundamental concepts of BYOD (Bring Your Own Device) with the help of ISE's posture and profiling services. SISAS (Cisco Secure Access Solutions) course can be taken by the candidate for preparing this exam
---
Edge Network Security (SENSS)
Exam: 300-206
Exam Description
Passing this exam validates the candidate's knowledge as a Network Security Engineer. Under this examination, the candidate is tested for configuring and implementing the network security on Cisco Network Perimeter Edge Devices such as Cisco Switch, Cisco ASA Firewall, and Cisco Router. The core focus of this examination is on the technologies used for strengthening and enhancing the network security of network parameters such as ASA policy, Network Address Translation, and zone-based firewall
---
Secure Mobility (SIMOS)
Exam: 300-209
Exam Description
The Implementing Cisco Secure Mobility Solutions (SIMOS) (300-209) exam assesses a network security engineer on the range of Virtual Private Network (VPN) solutions that Cisco has available on the Cisco ASA firewall and Cisco IOS software platforms. This exam lasts 90 minutes and consists of 65-75 questions and assesses the candidate's knowledge about implementing highly secure remote communications with VPN technologies like remote access SSL VPN and site-to-site VPN. Candidates can take the Implementing Cisco Security Mobility course to prepare for this exam.
---
Threat Control (SITCS)
Exam: 300-210
Exam Description
This exam tests the knowledge of a Networking Engineer on advanced firewall architecture and its configuration with a next-generation firewall. This test also examines how the Network Engineer utilizes the network access and uses the identity policies. Various new Cisco technologies such as Cisco NGFW, Cisco AMP, Cisco Firepower NGIPS, and Web & Email Security Solutions have been added to the test. Older technologies such as Cisco Intrusion Prevention System and the Firewall CX are no more covered in this exam.
---
Our Course Features
IP Specialist courses are ideally crafted courses that will guide you through the process of developing concrete skills required to pass the exam and build a successful career in the networking field. These Workbooks have been created in order to cover the previous exam patterns and official exam blueprint. Our technology workbooks practically explain all the concepts with the help of real-life case-study based labs. The content covered in our technology workbooks consists of individually focused technology topics presented in easy-to-follow, clear, precise, and step-by-step manner considering the individual needs. In our technology workbooks, technology breakdown and methodical verification helps you understand the scenario and related concepts with ease. We extensively used mind maps in our workbooks to visually explain the technology. Our workbooks have become a widely used tool to learn and remember the information effectively.
Covers complete Blueprint of all CCNP Security tracks

Case Study based approach

Ready to practice labs on VM

Contains Quick Reference Guide (CHEAT SHEET)
Get 20% instant discount when shared to your social account
*Product must be added in cart to apply coupon
Price: $99.99 –  $39.99  

Become an author & earn with us
If you are interested in becoming an author & want to earn with one time effort. IPS Offers "Earn with us" program for authors & students who have insights on IT related content & want to expand their reach globally can apply for the program here: www.ipspecialist.net/ews
Buy Now
Course Materials
Complete Blueprint, Labs Performed, Quick Reference Sheet & Custom Certificate