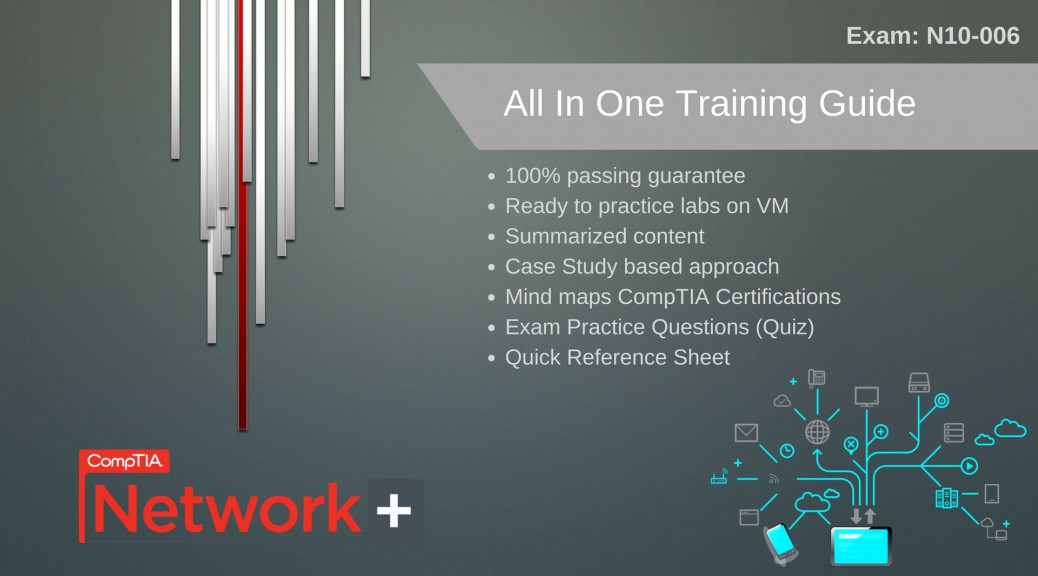 CompTIA Network+
Exam: N01-006
This training bundle covers all the information you need to pass the CompTIA Network+ N01-006 exam. The workbook is designed to take a practical approach towards learning with the help of real-life examples and case studies.
What are CompTIA Certifications?
CompTIA is a performance-based certification that helps you develop a career in IT fundament by approving the hands-on skills required to troubleshoot, configure, and manage both wired and wireless networks. CompTIA certifications help individuals build exceptional in Information Technology and enable organizations to form a skilled and confident staff.
CompTIA certifications have four IT certification series that test different knowledge standards-from entry level to expert level. CompTIA offers certification programs at the core level to professional level, which begins with the core IT fundamentals, infrastructure, cybersecurity leads to the professional level.
Covers complete CompTIA Network+ N01-006 blueprint
Summarized content
Case Study based approach
Ready to practice labs on VM
100% passing guarantee
Mind maps
Contains Quick Reference Guide which helps to revise exams instantly
IP Specialist courses are ideally crafted courses that will guide you through the process of developing concrete skills required to pass the exam and build a successful career in the networking field. These Workbooks have been created in order to cover the previous exam patterns and official exam blueprint. Our technology workbooks practically explain all the concepts with the help of real-life case-study based labs. The content covered in our technology workbooks consist of individually focused technology topics presented in an easy-to-follow, clear, precise, and step-by-step manner considering the individual needs. In our technology workbooks, technology breakdown and methodical verification help you understand the scenario and related concepts with ease. We extensively used mind maps in our workbooks to visually explain the technology. Our workbooks have become a widely used tool to learn and remember the information effectively.
Get 20% instant discount when shared to your social account
*Product must be added in cart to apply coupon
Price: $9.99

Become an author & earn with us
If you are interested in becoming an author & want to earn with one time effort. IPS Offers "Earn with us" program for authors & students who have insights on IT related content & want to expand their reach globally can apply for the program here: www.ipspecialist.net/ews
Buy Now
Course Materials
Complete Blueprint, Labs Performed, Quick Reference Sheet, Certificate & 100+ Practice Questions Quiz