CCNA Routing and Switching
CCNA Routing and Switching
Number of Students Registered
Course Description
Exam: 200-125
We Guarantee that you will pass your Cisco Certified Network Associate Routing and Switching (CCNA Routing and Switching) certification exam with training courses from IPSpecialist.
The leading organizations in the world are continuously migrating towards the controller-based architectures. The role and the skills of the engineer are therefore becoming more evolved and significant than ever. To help you abide by this transition, CCNA Routing and Switching Certification can up-skill you with the knowledge of all fundamental technologies to ensure that you stay updated with the relevant information and upgrade your skills for the adoption of next-gen technologies.
Our Course Features
IP Specialist courses are ideally crafted courses that will guide you through the process of developing concrete skills required to pass the exam and build a successful career in the networking field. These Workbooks have been created in order to cover the previous exam patterns and official exam blueprint. Our technology workbooks practically explain all the concepts with the help of real-life case-study based labs. The content covered in our technology workbooks consist of individually focused technology topics presented in an easy-to-follow, clear, precise, and step-by-step manner considering the individual needs. In our technology workbooks, technology breakdown and methodical verification help you understand the scenario and related concepts with ease. We extensively used mind maps in our workbooks to visually explain the technology. Our workbooks have become a widely used tool to learn and remember the information effectively.
Covers complete CCNA Routing & Switching Exam: 200-125
Summarized content
Case Study based approach
Ready to practice labs on VM
100% passing guarantee
Mind maps
Contains Quick Reference Guide (CHEAT SHEET) which helps to revise exams
Table of Content
About this Workbook
Cisco Certifications
How Does Cisco Certifications Help?
Cisco Certification Tracks
About the CCNA Exam
How to become CCNA R&S?

Chapter 1: Network Fundamentals
Compare and Contrast OSI and TCP/IP models
OSI Networking Model
TCP/IP Networking Model
Compare and contrast TCP and UDP protocols
Impact of infrastructure components in an enterprise network
Firewalls
Access points
Wireless Controllers
Effects of Cloud Resources on Enterprise Network Architecture
Traffic Path to Internal and External Cloud Services
Virtual services
Basic Virtual Network Infrastructure
Compare and Contrast Collapsed Core and Three-tier Architectures
Compare and Contrast Network Topologies
Star Topology
Mesh Topology
Hybrid Topology
Cabling Type and Implementation Requirements
Mind Map Of Cabling Type Based On Implementation Requirements
Troubleshooting Methodologies to Resolve Problems
Perform and Document Fault Isolation
Resolve
Escalate
Verify and Monitor Resolution
Configure, Verify, and Troubleshoot IPv4 Addressing and Subnetting
Compare and Contrast IPv4 Address Types
Unicast
Broadcast
Multicast
Lab 1-1 : IPv4 Addressing and Configuration LAN/WAN
Describe the Need for Private IPv4 Addressing
Identify the Appropriate IPv6 Addressing Scheme to Satisfy Addressing Requirements in a LAN/WAN Environment
Configure, Verify, and Troubleshoot IPv6 Addressing
Lab 1-2 : IPv6 Addressing
IPv6 Stateless Address Auto Configuration
Compare and Contrast IPv6 Address Types
Global unicast
Unique Local
Link Local
Multicast
Modified EUI 64
IPv6 Auto configuration
IPv6 Anycast

Chapter 2: LAN Switching Technologies
Describe and Verify Switching Concepts
MAC Learning and Aging
Frame Switching
Frame Flooding
MAC Address Table
Ethernet Frame Format
Troubleshoot Interface and Cable issues (collisions, errors, duplex, speed)
Configure, Verify, And Troubleshoot VLANs (Normal/Extended Range) Spanning Multiple Switches
Lab 2-1: VLAN
Default VLAN
Access Port
Trunk Ports
Add or Remove VLANs on Trunk
DTP, VTP (v1&v2), and 802.1Q
NativeVLAN
Figure 32Mind Map of Interswitch ConnectivitConfigure, Verify, and Troubleshoot STP Protocols
Lab 2-2 : Per VLAN Spanning Tree Protocol
Configure, Verify and Troubleshoot STP Related Optional Features
Configure and Verify Layer 2 Protocols
Cisco Discovery Protocol(CDP)
Link Layer Discovery Protocol (LLDP)
Configure, Verify, and Troubleshoot (Layer 2/Layer 3) EtherChannel
Static
Port Aggregation Control Protocol (PAGP)
Link Aggregation Control Protocol (LACP
Configuring a Layer 3 EtherChannel

Chapter 3: Routing Technologies
Routing Concepts
Packet handling along the Path through a Network
Components of a Routing Table
Prefix
Network Mask
Next Hop
Routing Protocol Code
Administrative Distance
Metric
Gateway of Last Resort
How Routing Table is Populated and Updated
Admin Distance
Configure, Verify, and Troubleshoot Inter-VLAN Routing
Router on a Stick
Lab 3-1 : Inter-VLAN Configuraiton
Switched Virtual Interface (SVI)
Compare and Contrast Static Routing and Dynamic Routing
Compare and Contrast Distance Vector and Link State Routing Protocols
Distance Vector Routing Protocol
Link Sate Routing Protocol
Compare and Contrast Interior and Exterior Routing Protocols
Configure, Verify, and Troubleshoot IPv4 and IPv6 Static Routing
Lab 3-2: IPv4 Static Routing
Default Route
Network Route
Host Route
Floating Static
Configure, Verify, and Troubleshoot Single Area and Multi-area OSPFv2 for IPv4
Lab 3-3 : OSPFv2 Multi Area
Configure, verify, and Troubleshoot Single Area and Multi-area OSPFv3 for IPv6
Lab 3-4 : OSPFv3
Configure, Verify, and Troubleshoot EIGRP for IPv4 (excluding authentication, filtering, manual summarization, redistribution, stub)
Lab 3-5 : Configuring EIGRP IPv4 Network
Configure, Verify, and Troubleshoot EIGRP for IPv6 (excluding authentication, filtering, manual summarization, redistribution, stub)
Lab 3-6 : Configuring EIGRP IPv6 Network
Configure, verify, and troubleshoot RIPv2 for IPv4
Lab 3-7 : Configuring RIPv2 Network
Troubleshoot Basic Layer 3 End-to-End Connectivity Issues

Chapter 4: WAN Technologies
Configure and Verify PPP and MLPPP on WAN interfaces using Local Authentication
Lab 4-1 Section 1: PPP Authentication
Lab 4-1 Section 2 : MLPPP
Configure, Verify, and Troubleshoot PPPoE Client-Side Interfaces using Local Authentication
Lab 4-2 : PPPoE Client Side
Configure, Verify, and Troubleshoot GRE Tunnel Connectivity
Lab 4-3 : GRE Tunnel
Describe WAN Topology Options
Point-to-Point
Hub and Spoke
Full Mesh
Single vs Dual-Homed
WAN Access Connectivity Options
MPLS
Metro Ethernet
Broadband PPPoE
Internet VPN (DMVPN, site-to-site VPN, client VPN)
Configure and Verify Single-Homed Branch Connectivity using eBGP IPv4 (limited to peering and route advertisement using Network command only)
Lab 4-4 : Single Homed Branch Connectivity using eBGP IPv4
Basic QoS Concepts
Marking
Device Trust
Prioritization
Shaping and Polocing
Congestion Management

Chapter 5: Infrastructure Services
DNS Lookup Operation
Lab 5-1 : DNS lookup Operation
Troubleshoot Client Connectivity Issues Involving DNS
Configure and Verify DHCP on a Router (excluding static reservations)
Server
Lab 5-2 : Configuring DHCP Server, Relay and Client.
Relay
Client
TFTP, DNS, and Gateway Options
Configure, Verify, and Troubleshoot Basic HSRP
Lab 5-3 : Hot Standby Routing Protocol (HSRP)
Priority
Preemption
Version
Configure, Verify, and Troubleshoot Inside Source NAT
Lab 5-4 : Network Address Translation
Static
Pool
PAT
Configure and Verify NTP Operating in a Client/Server Mode
Lab 5-5: Network Time Protocol

Chapter 6: Infrastructure Security
Configure, Verify, and Troubleshoot Port Security
Static
Lab 6-1 : Port Security (Static)
Dynamic
Lab 6-2 : Port Security (Dynamic)
Sticky
Max MAC addresses
Violation Actions
Err-disable Recovery
Common Access Layer Threat Mitigation Techniques
802.1x
DHCP Snooping
Nondefault Native VLAN
Configure, Verify, and Troubleshoot IPv4 and IPv6 Access List for Traffic Filtering
Lab 6-3 : Access List IPv4
Standard
Extended
Named
Lab 6-4 : Access List IPv6
Verify ACLs using the APIC-EM Path Trace ACL Analysis tool
Configure, Verify, and Troubleshoot Basic Device Hardening
Local Authentication
Secure Password
Access to Device
Login Banner:
Device Security Using AAA with TACACS+ and RADIUS

Chapter 7: Infrastructure Management
Configure and Verify Device Monitoring Protocols
SNMPv2
Lab 7-1 : Network Monitoring Tools (SNMP)
SNMPv3
Syslog
Lab 7-2 : Network Monitoring Tools (Syslog)
Troubleshoot Network Connectivity Issues using ICMP echo-based IP SLA
Configure and Verify Device Management
Backup and Restore Device Configuration
Using Cisco Discovery Protocol or LLDP for Device Discovery
Licensing
Logging
Timezone
Loopback
Configure and Verify Initial device Configuration
Perform Device Maintenance
Cisco IOS upgrades and recovery (SCP, FTP, TFTP, and MD5 verify)
Password Recovery and Configuration Register
File System Management
Use Cisco IOS tools to Troubleshoot and Resolve Problems
Lab 7-3 : Cisco IOS Troubleshooting Tools
Ping and traceroute with Extended Option
Terminal Monitor
Log Events
Local SPAN
Network Programmability in an Enterprise Network Architecture
Function of a Controller
Separation of Control Plane and Data Plane
Northbound and Southbound APIs
References
About Cisco Certifications
Cisco Certifications
Cisco Systems, Inc. specializes in networking and communication products and services. A leader in global technology, the company is best known for its business routing and switching products that direct data, voice, and video traffic across networks worldwide.
Cisco also offers one of the most comprehensive vendor-specific certification programs in the world, the Cisco Career Certification Program. The program has six (6) levels, which begins at the Entry level and then advances to Associate, Professional, and Expert levels. For some certifications, the program closes at the Architect level.
Cisco Certification Tracks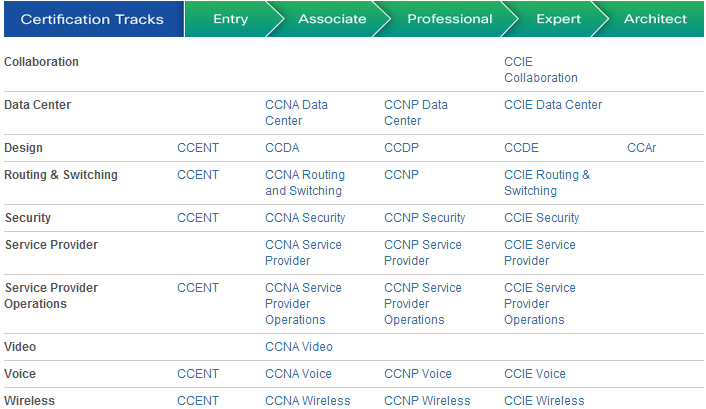 How does Cisco certifications help?
Cisco certifications are a de facto standard in networking industry, which helps you boost your career in the following ways:
Gets your foot in the door by launching your IT career
Boosts your confidence level
Proves knowledge, which helps improve employment opportunities
As for companies, Cisco certifications are a way to:
Screen job applicants
Validate the technical skills of the candidate
Ensure quality, competency, and relevancy
Improve organization credibility and customer's loyalty
Meet the requirement in maintaining organization partnership level with OEMs
Help in job retention and promotion
Get 20% instant discount when shared to your social account
*Product must be added in cart to apply coupon
Buy Now
Course Materials
Complete Blueprint, Labs Performed, Quick Reference Sheet & Custom Certificate