CCNP Routing and Switching | ROUTE
CCNP Routing and Switching | ROUTE
Number of Students Registered
Course Description
Implementing Cisco IP Routing (ROUTE)
Exam: 300-101
Exam Description
Cisco IP Routing (ROUTE 300-101) exam is a certifying exam for the Cisco CCNA Routing and Switching and CCDP Certifications. Passing this examination will certify the candidate to have the routing knowledge and skills. Successful candidates certified in using the advanced IP addressing and routing in implementing the scalable and highly secure Cisco routers that can be connected to WANs, LANs, and IPv6. The configuration of extremely secure routing solution to support the branch offices of enterprises and the mobile workers is also covered in this exam
Our Course Features
IP Specialist courses are ideally crafted courses that will guide you through the process of developing concrete skills required to pass the exam and build a successful career in the networking field. These Workbooks have been created in order to cover the previous exam patterns and official exam blueprint. Our technology workbooks practically explain all the concepts with the help of real-life case-study based labs. The content covered in our technology workbooks consists of individually focused technology topics presented in easy-to-follow, clear, precis, and step-by-step manner considering the individual needs. In our technology workbooks, technology breakdown and methodical verification helps you understand the scenario and related concepts with ease. We extensively used mind maps in our workbooks to visually explain the technology. Our workbooks have become a widely used tool to learn and remember the information effectively.
Covers complete blueprint of CCNP Routing and Switching ROUTE track
Summarized content
Case Study based approach
Ready to practice labs on VM
100% passinging guarantee
Mind maps
Contains Quick Reference Guide (CHEAT SHEET) which helps to revise exams
Table of Content
About this Workbook
Cisco Certifications
About the Route Exam
How to become CCNP?
Chapter 1: Network Principles
Technology Brief
Process switching
Fast switching
Cisco Express Forwarding Concepts
Cisco Express Forwarding (CEF)
Mind Map
General Network Challenges
Unicast Flooding
Causes
Asymmetric Routing
Symmetric routing flow through the firewall
Support of the Asymmetric routing feature
Out-of-Order Packets
Mind map
IP Operations
ICMP Redirects
IPv4 Fragmentation
IPv4 Packet Header Fragmentation Fields
IPv6 and Fragmentation
Time to Live TTL
TCP Operations
Path MTU
Path MTU Discovery
Maximum Segment Size (MSS)
Latency:
Windowing
Bandwidth Delay Product
Global Synchronization
Mind map
UDP Operations
Changes to the Network
Changes to Routing Protocol Parameters
Routing Protocol Migration
Mind Map

Chapter 2: Layer 2 Technologies
Point-to-Point Protocol PPP
Authentication with PAP:
Lab 2-1: PPP-PAP Authentication
Authentication with CHAP:
Lab 2-2: PPP-CHAP Authentication
Mind Map
PPPoE (Client Side only)
Lab 2-3: PPPoE Client Side Only
Frame Relay
Operation:
Frame Relay Address Mapping
Point-to-point:
Point to Multipoint:

Chapter 3: Layer 3 Technologies
IPv4 Addressing and Sub netting
Address Resolution Protocol:
DHCP Relay and Server:
Determining the Packet Forwarding Address
Relay Agent Information Option
DHCP Protocol Operations:
IP SLAs DHCP Relay Agent Options
IPv6 Addressing and Sub Netting
Unicast:
EUI-64
Neighbour Discovery
Router Advertisement
Neighbor Solicitation Message in IPv6
Auto Configuration SLAAC
DHCP Relay and Server
DHCP Protocol Operations
IPv6 Sub-netting
Static Routing
Lab 3-1: Static Route
Default Routing
Lab 3-2: Default Route
Types of Routing Protocol
Distance Vector Routing Protocol
Link State Routing Protocol
Troubleshooting Passive Interfaces
Lab 3-3: Passive Interface
VRF-Lite:
Lab 3-4: VRF-Lite
Redistribution
Lab 3-5: Route Redistribution
Filtering
Lab 3-6: Route Filtering
Lab 3-7: Policy based Routing:
Sub Optimal Routing
Lab 3-8: Sub Optimal Routing
Route Map
Loop Prevention Mechanism
Lab 3-9: RIPv2
RIP-ng
EIGRP Packets
Mind Map
Lab 3-10: EIGRP Neighbour Relationship and Authentication:
EIGRP Stubs
EIGRP Load Balancing
Lab 3-11: EIGRP Equal Cost Load Balancing:
EIGRP Metrics
Lab 3-12: EIGRP for IPv6
OSPF Packet Type:
OSPF Area Types:
OSPF LSA TYPES:
Lab 3-13: OSPF Neighbour Relationship and Authentication
Lab 3-14: OSPFv3
Mind Map
Border Gateway Routing Protocol
PATH Attributes
Internal and External BGP
Public and Private ASN
Peer Group
BGP STATES
Lab 3-15: BGP IPv4 Authentication
Lab 3-16: BGP IPv6 Authentication

Chapter 4: VPN Technologies
Tunnelling
GRE Tunnel
Characteristics of GRE
Lab 4-1: Configure and Verify GRE
DMVPN
Easy Virtual Networking (EVN)

Chapter 5: Infrastructure Security
AAA using Local Database
AAA using Radius and TACACS+
Lab 5-1: Device Access Control
Mind Map
Access Control List
Lab 5-2: IPv4 Standard ACL
Lab 5-3: IPv4 Extended ACL
Lab 5-4: IPv4 Time-Based ACL
Lab 5-5: IPv6 Traffic Filter
Unicast Reverse Path Forwarding

Chapter 6: Infrastructure Services
Network Time Protocol
NTP Authentication
Syslog
Simple Network Management (SNMP)
Lab 6-1: SNMP, Logging and NTP
Lab 6-2: DHCPv6
Lab 6-3: NAT-Static
Lab 6-4: NAT-Dynamic
Port Address Translation
IPv6 NAT
IP SLAs Operation Types
Tracking
Lab 6-5: Tracking
NetFlow
References
About Cisco Certifications
Cisco Certifications
Cisco Systems, Inc. specializes in networking and communication products and services. A leader in global technology, the company is best known for its business routing and switching products that direct data, voice, and video traffic across networks worldwide.
Cisco also offers one of the most comprehensive vendor-specific certification programs in the world, the Cisco Career Certification Program. The program has six (6) levels, which begins at the Entry level and then advances to Associate, Professional, and Expert levels. For some certifications, the program closes at the Architect level.
Cisco Certification Tracks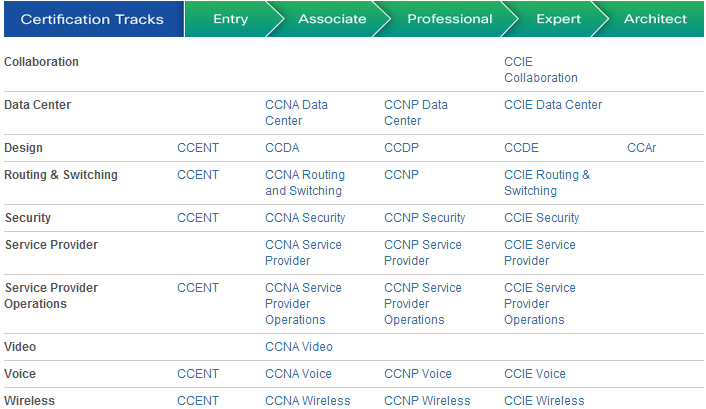 How does Cisco certifications help?
Cisco certifications are a de facto standard in networking industry, which helps you boost your career in the following ways:
Gets your foot in the door by launching your IT career
Boosts your confidence level
Proves knowledge, which helps improve employment opportunities
As for companies, Cisco certifications are a way to:
Screen job applicants
Validate the technical skills of the candidate
Ensure quality, competency, and relevancy
Improve organization credibility and customer's loyalty
Meet the requirement in maintaining organization partnership level with OEMs
Help in job retention and promotion
Get 20% instant discount when shared to your social account
*Product must be added in cart to apply coupon
Buy Now
Course Content