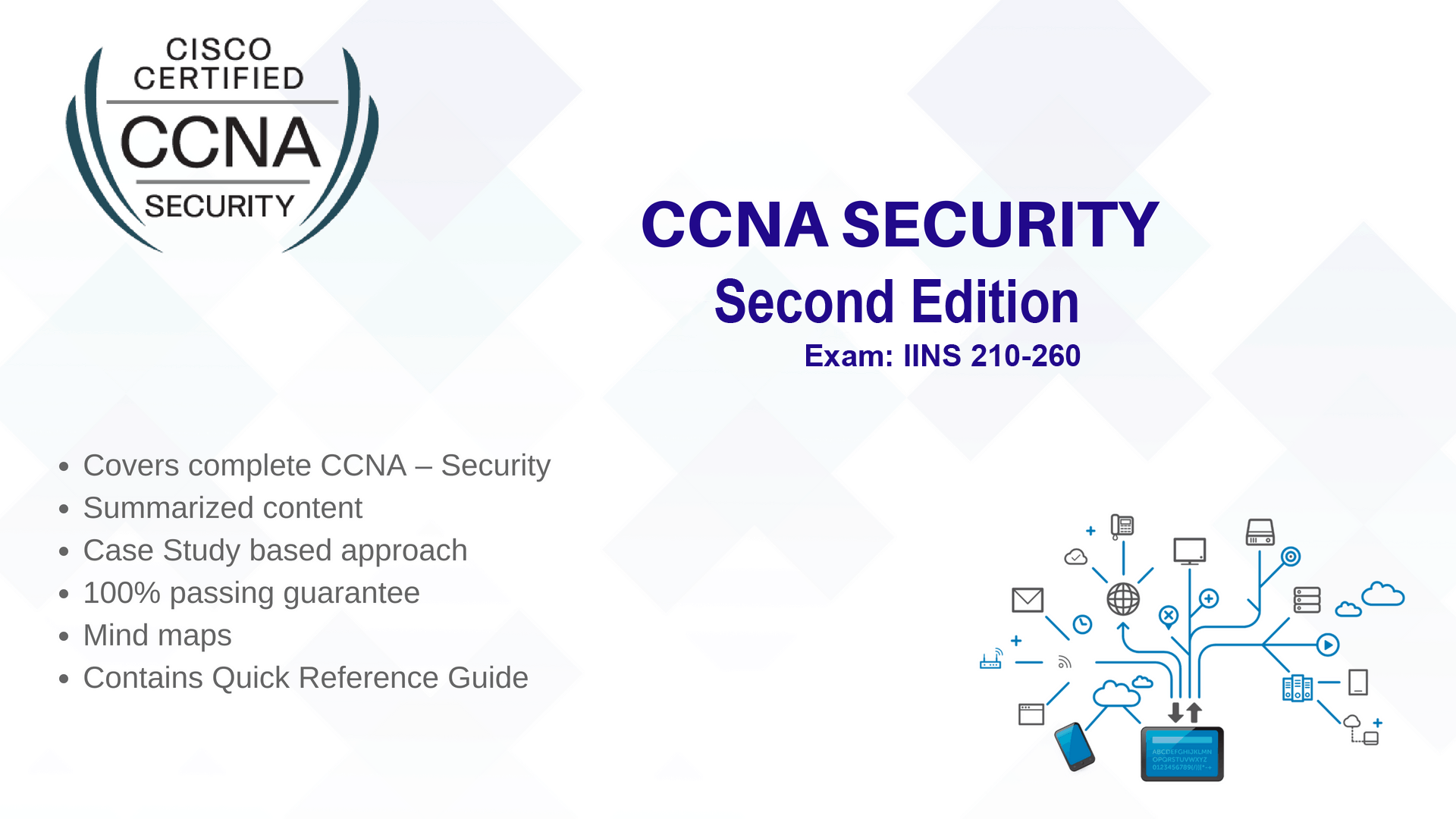 CCNA Security Second Edition
CCNA Security Second Edition
IPSpecialist Technology workbooks are the ideal guides to developing the hands-on skills necessary to pass the exam. Our workbook covers official exam blueprint and explains the technology with real life case study based labs. The content covered in each workbook consists of individually focused technology topics presented in an easy-to-follow, goal-oriented, systematic approach. Every scenario features detailed breakdowns and thorough verification to help you completely understand the task and associated technology.
We extensively used mind maps in our workbooks to explain visually the technology. Our workbooks have become a widely used tool to learn and remember the information effectively.
This workbook covers all the information you need to pass the Cisco CCNA 210-260 exam. The workbook is designed to take a practical approach of learning with real life examples and case studies.
Covers complete CCNA blueprint
Summarized content
Case Study based approach
Ready to practice labs on Virtualized Environment
100% passing guarantee
Mind maps
Free resources
About the CCNA Exam
Exam Number: 210-260 CCNA
Associated Certifications: CCNA Security
Duration: 90 minutes (60-70 questions)
Exam Registration: Pearson VUE
The Cisco Certified Network Associate (CCNA) Security composite exam (210-260) is a 90-minute, 60–70 question assessment that is associated with the CCNA Security certification. This exam tests a candidate's knowledge and skills related to the secured network infrastructure, understanding core security concepts, managing secured access, VPN encryption, firewalls, intrusion prevention, web and email content security, and endpoint security. The following topics are general guidelines for the content likely to be included on the exam
Get 20% instant discount when shared to your social account
*Product must be added in cart to apply coupon
Price: $9.99

Become an author & earn with us
If you are interested in becoming an author & want to earn with one time effort. IPS Offers "Earn with us" program for authors & students who have insights on IT related content & want to expand their reach globally can apply for the program here: www.ipspecialist.net/ews
Buy Now