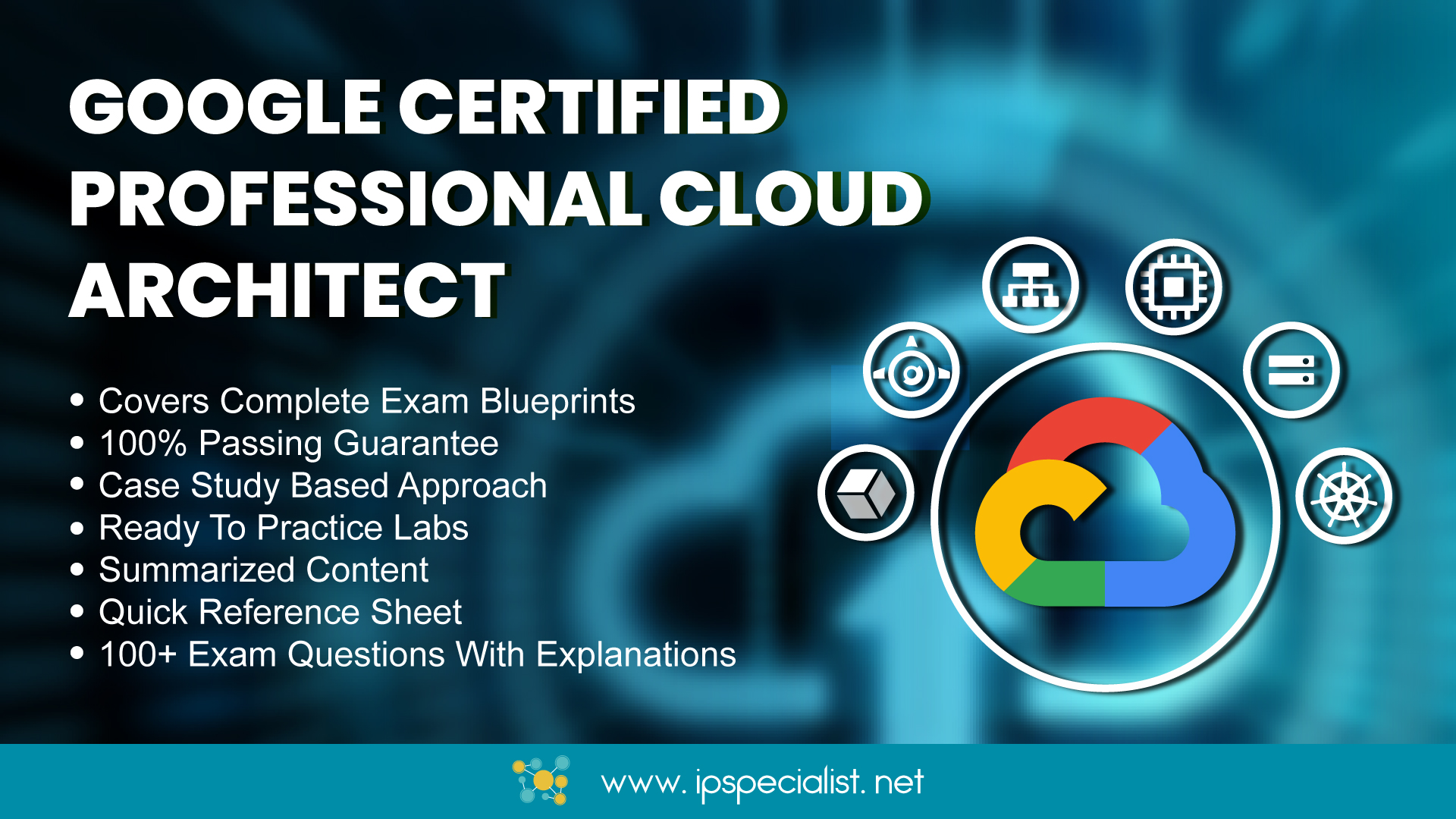 Google Certified Professional Cloud Architect
Google Certified Professional Cloud Architect
Google Cloud Platform (GCP) Certifications are industry-recognized credentials that validate your technical cloud skills and expertise while assisting you in your career growth. These are one of the most valuable IT certifications right now since GCP has established an overwhelming lead in the public cloud market. Even with the presence of several tough competitors such as Microsoft Azure, AWS, and Rackspace, GCP is gaining ground in the public cloud platform today, with an astounding collection of proprietary services that continues to grow.
The two key reasons as to why GCP certifications are prevailing in the current cloud-oriented job market:
There is a dire need for skilled cloud engineers, developers, and architects – and the current shortage of experts is expected to continue into the foreseeable future.
The Google Cloud Certified assignment means that you have exhibited the important aptitudes to use Google Cloud innovation in a manner that can change organizations and definitively sway the general population and clients they serve.
Value of GCP Certifications
Google Cloud Certifications place equal emphasis on sound conceptual knowledge of its entire platform, as well as on hands-on experience with the GCP infrastructure and its unique and complex components and services.
For Individuals
Demonstrate your expertise in designing, deploying, and managing application infrastructure and data solutions on Google Cloud Technology.
Gain recognition and visibility of your proven skills and proficiency with GCP.
Foster credibility with your employer and peers.
For Employers
Identify skilled professionals to lead IT initiatives with Google Cloud technologies.
Reduce risks and costs to implement your workloads and projects on the Google Cloud Platform.
Increase customer satisfaction.
Types of Certification
Role-based Certification
Associate- Technical role-based certifications. No pre-requisite.
Professional- Highest level technical role-based certification. Relevant Associate certification required.
About GCP – Professional Cloud Architect Exam
| | |
| --- | --- |
| Exam Questions | Multiple choice and multiple answer |
| Time to Complete | 120 minutes |
| Available Languages | English, Japanese, Spanish, and Portuguese |
| Exam Fee | 200 USD |
The Google Certified Professional Cloud Architect exam validates and individual's ability to deploy applications, monitor operations, and manage enterprise solutions. This individual is able to use GCP Console and the CLI to perform common platform-based tasks to maintain one or more deployed solutions that leverage Google-managed or self-managed services on Google Cloud. Example concepts you should understand for this exam include:
Creation of projects and billing accounts
Planning and configuring compute resources, data storage options, and network resources
Deployment and implementation of a cloud solution
Managing App Engine, Compute Engine, and Kubernetes Engine
Management of IAM and Service accounts
Recommended Google Cloud Knowledge                                          
6-month hands-on experience on Google Cloud Console and CLI
Understanding of core GCP services and their uses
This exam has no pre-requisites
| | |
| --- | --- |
|   | Domain |
| Domain 1 | Set up a cloud solution environment |
| Domain 2 | Plan and configure a cloud solution |
| Domain 3 | Deploy and implement a cloud solution |
| Domain 4 | Ensure successful operation of a cloud solution |
| Domain 5 | Configure access and security |
Table of Contents
Chapter 01: Cloud Concepts 18
What is Cloud Computing? 18
Advantages of Cloud Computing 18
Types of Cloud Computing 19
Cloud Computing Deployments Models 19
Google Cloud Platform 20
GCP Resources 20
Global, Regional, and Zonal Resources 20
Ways to Interact with the Services 22
GCP's Design and Structure 23
What are Google Cloud Platform (GCP) Services? 25
Practice Questions: 36
Chapter 02: Core Management Services 41
Introduction 41
Management Services 41
Cloud Resource Manager 41
Resource Hierarchy 41
Core Principles 42
Google Cloud Resource Hierarchy 42
Policy Inheritance 43
Lab 2-01: Resource Hierarchy-Hands On 43
Labels 50
How Do They Work? 50
Examples of Labels 50
Labels vs Network Tags 50
Lab 2-02: Applying Labels on Compute Engine Instances using Console 50
Quotas 62
Why Quotas are Needed? 62
Increasing Quota Caps 63
Lab 2-03: Quotas 63
Cloud IAM 72
Who (Member) 72
Can do What (Role) 72
On Which Resources 72
Members 73
Roles 73
IAM Policy 74
Service Accounts 99
Types of Service Accounts 99
Service Account Keys 100
Service Account Scopes 100
Lab 2-04: Service Accounts 100
Billing 126
Billing and Cloud IAM 126
Billing Relationship 126
Managing and Viewing Billing Data 127
Lab 2-05: View Sample Billing Data with BigQuery and Cloud Storage 127
Stackdriver 147
Overview 147
Stackdriver Benefits 148
Third Party Integration 148
Stackdriver Logging 148
Lab 2-06: Stackdriver Logging 151
Stackdriver Monitoring 172
Lab 2-07: Stackdriver Monitoring 174
Trace, Debug, Error Reporting, and Profiler 201
Lab 2-08: Trace, Error Reporting, and Debugging 203
Practice Questions: 222
Chapter 03: Core Building Blocks 226
Introduction 226
Cloud Storage 226
Buckets 226
Objects 227
Storage Classes 227
gsutil Command Basic 232
Cloud Storage Security Concepts 232
Lab 3-01: Cloud Storage Security 235
Object Versioning 260
Object Lifecycle Management 260
Lab 3-02: Object Versioning 262
Lab 3-03: gsutil for Cloud Storage 274
GCP Databases 282
Managed Database on Google Cloud 283
Non-managed Database 288
Cloud SQL DeepDive 289
Big Query DeepDive 297
Virtual Networks 303
Virtual Private Cloud (VPC) – Basic Concepts 303
Firewalls 331
Shared VPC Concept 348
Testing and Production Environments 350
Hybrid Cloud 351
Two-Tier Web Applications 352
Lab 3-06: Shared-VPC 354
Interconnecting Networks 377
The Power of the Network 377
Connecting your Network to Google 379
Google Cloud VPN Deep Dive 384
Lab 3-07: Cloud VPN 387
Lab 3-08: Cloud Router 425
Google Cloud DNS 440
Compute Engine Deep Dive 445
Disks 445
Lab 3-09: Creating, Resizing and Attaching Disks (via Console) 450
Lab 3.10: Creating, Resizing and Attaching Disks (via CLI) 463
Lab 3.11: Resizing the Boot Disks 469
Images 488
Lab 3.12: Creating Custom Images 492
Snapshots 505
Startup and Shutdown Scripts 513
Preemptible VMs 519
Practice Questions: 522
Chapter 04: Elastic Cloud Infrastructure: Scaling and Automation 527
Introduction 527
Force Multipliers Automation and Scaling 527
Load Balancer 528
Global versus Regional Load Balancing 530
External versus Internal Load Balancing 530
HTTP(s) Load Balancer 531
Network Load Balancer 533
Internal TCP/UD Load Balancer 533
Lab 4-01: Load Balancer 533
Instance Group and Auto-scaling 544
Managed Instance Groups 545
Lab 4-02: Managed Instance Groups 548
Lab 4-03: Auto-scaler and Instance Group Updates 563
Google Cloud CDN 574
Cloud CDN Locations 574
Cloud Deployment Manager 574
The Workings of Cloud Deployment Manager 574
Lab 4-04: Simple Deployment 575
Lab 4-05: Complex Deployment using Dependencies 584
Lab 4-06: Deployment with Templates 589
Practice Questions 593
Chapter 05: Elastic Cloud Infrastructure: Managed Compute Services 597
Introduction 597
Compute Services Overview 597
Compute Engine – Infrastructure as a Service (IaaS) 597
Kubernetes Engine 598
App Engine – Platform as a Service (PaaS) 598
Cloud Functions 599
App Engine 599
Management Concepts 600
Lab 5-01: App Engine 601
Kubernetes Engine 621
Cluster Orchestration with GKE 621
Container Resources 621
GKE Administration Concepts 622
Lab 5-02: Kubernetes Engine 626
Big Data and Machine Learning Services 656
Cloud Dataproc 656
Cloud Dataflow 656
Differences between Dataproc and Dataflow 656
Dataprep 657
Cloud Pub/Sub 657
Machine Learning 657
Data Visualization Services 657
Datalab 657
Data Studio 658
Data Lifecycle 658
Practice Questions 660
Chapter 06: Business Scenarios 664
Introduction 664
Case Study Overviews 664
MountKirk Games 665
Dress4Win 669
Terram-Earth 673
Mountkrik Games 676
Dress4Win 676
Terram-Earth 676
Practice Questions 678
Chapter 07: Architecting Google Cloud Solution 683
Introduction 683
Making the Case for Cloud and GCP 683
Planning a Cloud Transition 683
Cost Optimization 685
Architecting Cloud Applications 686
Migrating to Google Cloud 688
Planning a Successful Cloud Migration 688
Storage Transfer Service 691
Data Migration Best Practices 694
Migration Applications 698
Resilient Cloud Solution Infrastructure 699
Disaster Recovery Concepts 699
Backup and Recovery Methods in GCP 701
Security and Compliance 701
Security Methods in GCP 701
Network Design for Security and Isolation 703
Legal Compliance and Audits 705
Development Practices 709
Software Development Lifecycle Concepts 709
Testing Your Application for Resiliency 712
Practice Questions 714
Answers: 719
Acronyms: 748
References: 750
About Our Products 754
Get 20% instant discount when shared to your social account
*Product must be added in cart to apply coupon
Price: $9.99

Buy Now