Introduction
Organizations are more technologically sophisticated than ever, and their security infrastructure must advance with technology. The Internet has expanded, and vulnerabilities have increased due to more businesses exploiting these network topologies and exploiting flaws.
Information security is a concern here. Data security refers to the procedures and methods used to stop unauthorized access to private information, whether it is stored electronically or in written form. Data is a valuable asset for individuals and corporations, making its protection from loss or theft even more critical.
Network security and cybersecurity have become increasingly common in the computer industry in the last few years. Additionally, it makes perfect sense for firms to enlist the aid of experts in these disciplines, given the daily rise in cyber risks and attacks. This article covers detailed knowledge of Networking Security and Cybersecurity and their differences.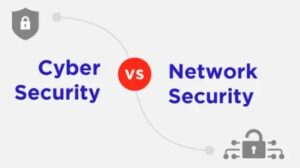 What is Cybersecurity?
The phrase "cybersecurity" refers to defending you from harmful threats and cyber terrorists. It is one of the many parts of information security that protects the reliability of networks, software, and hardware against hackers.
To assist in stopping these assaults, you can employ various security measures, including antivirus software, firewalls, and encryption technologies. It is essential to keep up with the most recent threats and monitor traffic to modify your defense measures, lower cyber risks, and stop data loss and other exploitations as necessary.
The cybersecurity specialists would be in charge of all these duties. People and organizations can only take charge of their digital security and safeguard their most valuable assets with the necessary information and resources.
Why You Need Cybersecurity
For several reasons, cybersecurity is essential for safeguarding your data and preventing unwanted online activity.
First, cyber security helps against the theft of sensitive user data by hackers or online criminals, such as financial information, passwords, and other sensitive data. Additionally, you may ensure that your data is protected from harmful attacks by utilizing reputable internet security solutions like firewalls, antivirus software, and VPNs.
In addition, preventing identity theft is another incentive to establish strong cybersecurity measures. Cybercriminals frequently exploit stolen identities for various fraudulent operations, including bank fraud and money laundering.
Among the typical cyber-threats are:
Examples of malware are ransomware, botnet software, RATs (remote access Trojans), rootkits, spyware, Trojans, viruses, and worms.
Through backdoors, remote access.
Harmful code being inserted into internet forms is known as form jacking.
Installing unauthorized Bitcoin mining software on a computer is known as cryptojacking.
What is Network Security?
Cybersecurity's subset of network security guards against hostile attacks on computers, networks, and data.
Network security experts are responsible for safeguarding shared data to avoid data manipulation. Professionals in network security must install, configure, maintain, and monitor all hardware and software assets to identify any security abnormalities and network threats. This procedure includes password policies, firewalls, and antivirus software. It refers to any company's action to protect its networks and systems against unauthorized access.
Multiple levels of security are used in network security to thwart unauthorized access, malware assaults, identity theft, data loss, and other criminal activities. A firewall is the most popular type of network security and serves as the first line of protection by allowing or restricting traffic by pre-established rules.
Other methods, such as encryption algorithms, guarantee secure network connections between people and systems. Network security experts apply access control techniques to restrict access to sensitive data kept on servers or networks.  Frequent software upgrades help maintain network security by addressing known security flaws that hackers could exploit.
Types of Network Security
The following are some examples of network security's various forms and types:
Network Access Control – You must implement thorough access control policies for people and devices to ensure potential attackers cannot access your network. Any level of Network Access Control (NAC) setting is possible. Antivirus and antimalware software prevent viruses, ransomware, worms, and Trojan horses from infecting computers.
Virtual Private Networks – A connection to the network can be made from a distant endpoint or location via a VPN. Data is encrypted Between the two sites, and the user must approve before their device joins the network.
Why Is Network Security Necessary?
Your data and information will be safeguarded from dangerous assaults and breaches thanks to network security. Hackers can access sensitive data like passwords, bank account information, credit card numbers, and more without adequate security. A firewall or antivirus program can help keep your data safe and ensure no one can access it without your permission.
To protect against phishing attacks, network security is a fantastic additional benefit. You risk financial losses and data leakage when you fall victim to a phishing assault (like many others over the years), which typically involves customer and employee data. Create a network security system that is robust enough to fend off possible invaders to avoid this.
What Makes Network Security Apart From Cybersecurity?
Although both aim to protect sensitive corporate information, they approach the task differently. For example, cybersecurity is defending systems, networks, and data against nefarious cyberattacks or threats. These dangers can include man-in-the-middle or denial-of-service attacks, as well as more complex threats like viruses, malware, ransomware, and phishing efforts. Helping to identify, address, and recover from these risks is the responsibility of the cybersecurity expert.
An entire computer network's security is centered on preventing intrusions and unauthorized access. Network security experts are in charge of developing various preventative measures to secure business networks, including monitoring network traffic for unusual activity and resolving any problems that may crop up to ensure that only genuine traffic is allowed to enter the system. By limiting access to sensitive data kept on a computer system by unauthorized users, network security also protects the system's resources.
Cybersecurity vs. Network Security: Certifications
The top certificates in software engineering include those for the C programming language, the Certified Secure Software Lifecycle Professional, the Certified Software Development Professional, the Certified Software Engineer, the CW Web Development Professional, etc.
Among the certifications available in cyber security are CISSP, CSA, CISM, Security+, CEH, GSEC, SSCP, and CASP.
KnowledgeHut offers a variety of courses where you can explore and pick up new abilities.
Conclusion
Cybersecurity and network security are separate but closely connected ideas. While cyber security covers all facets of security in the digital world, network security focuses on protecting computer networks from unauthorized access. It is critical for individuals and organizations wanting to safeguard their networks, devices, and data against cyber threats to comprehend the differences between these two notions.
Individuals and organizations can better defend themselves from the increasing number of cyber dangers in today's digital environment by implementing efficient network security and cyber security procedures.
Cybersecurity is a subset of network security, a collection of tools and procedures an organization uses to protect its network infrastructure. Although network security is theoretically simpler for organizations to adopt, it does not offer complete protection from online attacks. Additionally, even if cybersecurity is a more thorough strategy for protecting networks from cyberattacks, it is more challenging to implement.