Introduction
You may be familiar with the Microsoft Power Platform if you work in an IT job that deals with enterprise business applications. It is a collection of software meant to help businesses manage, automate, and analyze data. The Microsoft Power Platform Fundamentals PL-900 exam is designed for functional consultants, business users, and other professionals who want to boost organizational productivity by automating business procedures, analyzing data, creating simple app experiences, or improving Microsoft cloud solutions.
This article covers detailed knowledge of how to pass  Microsoft Certification PL-900 Exam.
PL-900: Microsoft Power Fundamentals
Microsoft certifications have historically been the most desirable due to the significance of the Microsoft brand. The PL-900 Microsoft Power Platform Fundamentals Certification is one of these qualifications.
You can create business and product capabilities using the Microsoft Power Platform by passing the PL-900 MS Power Platform Fundamentals certification exam. The exam covers Microsoft Power Platform tools like Power BI, Power Automate, Power Apps, and Power Virtual Agents without delving into specific programming and management techniques.
Microsoft PL-900 Exam Details
Microsoft's PL-900 exam contains a variety of question styles, including multiple-choice, short answer, mark review, and case studies. To maximize time management, exam takers should start with the case study questions, which typically take the most time to complete. They can then answer the short answer questions before moving on to the multiple-choice questions.
The time limit is 60 minutes, and you must answer 60 exam questions. The results of the examination are published as a score ranging from 100 to 1000, with a minimum passing score of 700. Also, choose your preferred language, as this certification exam is only available in English.
The Microsoft PL-900 certification exam focuses on the following vital domains:
Describe the business value of Power Platform (15-20%)
Identify the core components of Power Platform (15-20%)
Demonstrate the capabilities of Power BI (15-20%)
Describe the capabilities of Power Apps (15-20%)
Demonstrate the capabilities of Power Automate (15-20%)
Demonstrate the business value of Power Virtual Agents (10-15%)
Are you an Ideal Candidate for Microsoft Power Platform Certification?
Before you move forward and explore the process of earning this certification, it is important for you to know if you are the ideal candidate for this certification or not. The Microsoft Power Platform Fundamentals certification is apparently an excellent career boost for you if you aspire to pursue:
Developing solutions led by the Power Platform
Automation of preferred and standard business methods in collaboration with Power Automate
Data Analysis, performed with the use of Power BI
Produce Power Apps to simplify the operational progress
Evolve chatbots and virtual agents to keep an eye on unified solutions
Steps You Should Follow to Study for and Pass the Microsoft Power Platform
Prerequisites
For this certification, no prerequisites are necessary. However, it would be advantageous if you were acquainted with:
Knowledge of Microsoft Power Platform
What you will Learn in this Course?
You may get the gist of the Microsoft Power Platform by taking the PL-900 exam. On Power BI, Power Apps, Power Automate, and Power Virtual Agents, you will learn everything there is to know in depth. You will also be able to explain the functions of the essential parts, specifically:
Power BI: Using Power BI, you can convert and source data from Power Query, develop data visualizations, and more.
PowerApps: Using PowerApps, you can connect your data stored in Microsoft Dataverse or other data sources like SharePoint or SQL Server to business-relevant apps you design using Microsoft's workflow and business logic features.
PowerAutomate: Create automated workflows to link several business apps so that files can be synced, data can be collected, update notifications can be sent, etc.
Exam Information

Fundamentals PL 900 Exam
Various study tools are available, including Q&A, audio and video quizzes, and others. It is critical to determine whether the study resources are consistently updated. Furthermore, cramming the night before the Microsoft PL-900 Exam is not recommended. Instead, you can attain your goal by using the tools and suggestions listed below.
Understand Microsoft PL-900 Examination
Before trying the PL-900 certification, the applicant must first grasp the scope of the exam. The Microsoft website contains useful information like study guides, themes, and practice questions. Microsoft also offers a Learning Platform to help applicants study for the company's different certifications, including the Microsoft PL-900. This platform will help you to examine your present knowledge and make appropriate decisions.
Formulate a Personalized Study Strategy
When studying for the PL-900 exam, effective time management is critical. The exam covers a wide range of topics across several domains. Therefore, it is critical to assess each one ahead of time. To thoroughly prepare, you should do things like study, take practice exams, read internet discussion boards, and go over areas where you need to improve. It is also critical to create a study schedule that works for you, and if possible, study simultaneously every day.
Take Advantage of Microsoft Docs
Microsoft provides structured material known as Microsoft Docs to candidates for them to obtain a grasp of the Power Platform's capabilities and business value. You can gain practical expertise in the following areas by using this documentation:
You will learn how to create a simple Power App.
You will be shown how to link data using standard data services.
In addition, the training will provide instructions for creating a Power BI dashboard.
You will get knowledge of the Microsoft Automate automation technique.
Get Involved in the Microsoft Community
Candidates can benefit greatly from participating in the online Microsoft PL-900 professional group. These virtual discussion boards are wonderful resources that can help you pass certification examinations quickly. They also assist you in developing new abilities required to pass the PL-900 exam. You will also have access to extra professionals who can share their knowledge and recommendations to help others pass the exam.
Use PL-900 Resources
Before taking an exam, performing extensive research and being well-prepared is critical. Taking actual mock examinations allows candidates to become acquainted with the exam's testing techniques, patterns, and policies. Use the study guide to prepare for the Microsoft Certification PL-900 Exam published by IPSpecialist.
Get it Today:
PL-900: Microsoft Power Platform Fundamentals
The content of this program is tightly aligned with the PL-900 exam objective domains.
The resources offered by IPSpecialist for this course include:
Auto-updates to the course content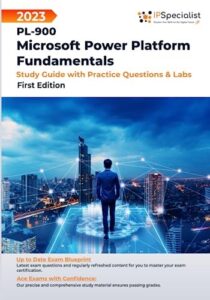 Perks You Get By Passing the PL-900 Exam
There are various advantages to obtaining the Power Platform Fundamentals Certification if you pass the PL-900 exam. Among these advantages are:
Individuals who hold the Power Platform certification can demonstrate their expertise in integrating numerous Microsoft Power Platform technologies to maximize corporate value, innovate, and explore new opportunities.
You can outperform the competition by enrolling in PL-900 training and getting a highly recognized Microsoft certification.
Companies that adopt new technology must have the skills to manage data across many platforms.
Individuals with the Power Apps certification can earn an impressive income of 123,000 USD.
The Microsoft Certified – Power Platform Fundamentals certification will help you quickly establish credibility and remain useful in a competitive employment market.
You can highlight your PL-900 certification on your resume to attract possible employers from a variety of industries.
You can launch a successful career in Microsoft Power Platform by obtaining the Microsoft Power Platform Fundamentals certification.
Conclusion
Keeping up with the latest technologies is critical in today's world. If you want to advance your career in the power platform industry, you must first get the Microsoft Power Platform Fundamentals certification. After passing this exam, you will be able to build simple app experiences and increase efficiency through automation. Many candidates who have taken the Microsoft PL-900 exam have done well. You may ace the Microsoft Power Platform Fundamental exam by using relevant study materials, such as practice questions. This will help you break into the competitive world of IT professionals.
If your company already uses Power Apps, your dedication to PL-100 exam preparation may persuade management to put you on a process development team. The preparation procedure is important to obtaining any certification and should not be overlooked.