Introduction
IoT cyber security is a branch of technology that aims to safeguard connected objects and networks in the IoT. Connecting mechanical and digital equipment, objects, and humans to the Internet is what the Internet of Things (IoT) includes. Each "thing" is given a unique identification number and the ability to independently transfer data over a network. If not adequately protected, allowing devices to connect to the Internet exposes them to several serious threats. This article covers details of IoT Cyber Security.
What is IoT Security?
Despite being a relatively new field in cyber security, the Internet of Things (IoT) has developed into a set of use cases that are clearly defined and address pressing business issues. These use cases span a variety of industries, including healthcare, retail, financial services, utilities, transportation, and manufacturing, and they provide operational and financial benefits.
IoT devices now make up 30% of all devices on enterprise networks, which has sparked a shift in business processes thanks to the technology's quick development and adoption. Rich data from these devices offer insightful information that helps with real-time decision-making and delivers precise predictive modeling. IoT is also a critical enabler of digital transformation in the company, potentially increasing employee experience, workforce productivity, corporate efficiency, and profitability.
What Are the Best Practices for IoT Security?
CISOs and security professionals with a strategic perspective as they move beyond traditional network security solutions are establishing IoT security postures that reliably enable IoT innovation and protect the network from known and unknown threats. IoT security is guided through five critical stages by the lifecycle model.
IoT security should be incorporated into standard practice, processes, and procedures by network security and operations teams to guarantee that managed and unmanaged devices share the same level of visibility and control throughout the IoT security lifecycle:
Contextually identify all managed and unmanaged devices.
They accurately assess and identify hazards and vulnerabilities related to all devices.
Automate the implementation of Zero Trust policies.
Take immediate action to stop identified threats.
Quickly recognize and address unknown risks.
What is IoT Cyber Security? 
The Internet of Things (IoT) links different items and machines together so they can talk with other similarly connected machines or gadgets. Using an online connection, consumers can now buy various things, from cars to refrigerators. We may become more effective, save time and money, and have access to our digital lives whenever needed by expanding networking capabilities to every part of our lives.
Why is IoT Security Required? 
IoT device security is challenging for several reasons. Manufacturers and innovators frequently accord security a lower priority than time-to-market metrics under pressure to deploy innovative goods. Additionally, many firms are typically more focused on the cost reductions and convenience that IoT offers than the vulnerabilities that IoT brings.
Organizations must secure the security of their IoT networks in addition to the security of individual IoT devices. Strong user authentication and access control techniques might help ensure that only authorized users can access the IoT framework.
Gartner says more than 25% of enterprise assaults will involve IoT by 2020. The stakes are exceptionally high for IoT systems used in the industrial sector. Connected IoT sensors and devices might significantly increase the operational hazards in anything from national power generation and distribution infrastructures to international industrial operations.
Businesses  can gain a lot from the Internet of Things (IoT). However, as the IoT ecosystem becomes more complicated and there are more IoT devices, there are also more security flaws from the edge to the cloud.
How Do IoT Attacks Occur? 
The IoT attack surface areas are summarized as follows:
Attacks may mainly be launched through devices. Vulnerabilities can occur in memory, firmware, physical interface, web interface, and network services, among other places. Attackers may also use outdated components, unsafe update procedures, and insecure default settings.
Channels of Communication
Attacks on IoT components can start in the communication channels that link them. IoT system protocols could include security issues that affect the system.
Software and Applications
Flaws in web applications and related software for the Internet of Things devices can compromise systems. Web apps, for example, can be exploited to transmit malicious firmware upgrades or steal user passwords.
How to Safeguard IoT Devices and Networks Against Cyber Attacks 
Devices connected to the Internet of Things should be secured before connecting. Use strong passwords, keep the security software on these devices up to date, encrypt the device, and authenticate it to accomplish this.
Cybercriminals are likely to know the default passwords provided by many IoT devices. You should modify your default passwords to avoid unauthorized access to your Internet of Things devices.
Wi-Fi and network connections must be secured with strong passwords. To secure your IoT devices and prevent hackers from accessing the connection, guest networks must also be set up.
Examine the Default Settings
There are default privacy and security settings on a lot of IoT devices. You should think about checking and modifying them to prevent uncertainty and cyberattacks. The gadget maker may benefit from some default settings.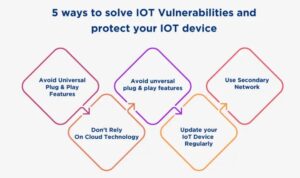 How Can IoT Cyber Security be Improved? 
Blockchain technology should be a key strategy when creating an IoT cyber security plan. This is because blockchain is a decentralized database that stores data in a transparently accessible digital format. This is because there are numerous entry points into the blockchain rather than just one single point of contact.
An attack on one or more nodes does not impact the other nodes because each node is essentially any electronic device that keeps a copy of the blockchain. By limiting access to IoT devices by default, blockchain defends against data tampering and enables the shutdown of compromised devices in the network ecosystem.
IoT Cyber Security Tools 
Engineers, students, and amateurs can use the programmable CPU core for electronics projects called Flutter. The key selling feature of Flutter is its vast range. This Arduino-based board has a wireless transmitter with a more than half-mile range.
A hardware prototyping platform called Kinoma from Marvell Semiconductor features three open-source projects.
Node-Red is a visual tool for ingeniously fusing tangible objects with online services, APIs, and other services.
IoT Cyber Security in the Future
There are more technology and manpower options available. Here are a few ways IT professionals can strengthen their security posture with regard to IoT devices.
Increase Security Features: Including the capability to encrypt all transferred and stored data can be beneficial. Additionally, improved authentication protocols can support connection management. Additionally, employees can learn how to segment and divide IoT traffic more effectively so that it can be readily handled and controlled. They can respond to security breaches more effectively in this way.
Conclusion
Organizations utilizing this technology face enormous challenges related to IoT cyber security; security must be given priority. When IoT security is in place, businesses can return their attention to the core objectives of IoT, which include process optimization, service quality improvement, cost reduction, and customer experience enhancement.