The covid-19 epidemic will continue to have an influence on our lives in various ways in 2022. This indicates that the digitization and virtualization of business and society will continue to accelerate. As we enter the new year, however, the demand for sustainability, ever-increasing data volumes, and faster computation and network speeds will reclaim their position as the most essential drivers of digital transformation.
The most essential lesson of the previous two years or so for many individuals and organizations has been that truly transformative change is not as difficult to accomplish as originally assumed, if the motivation is there! As the focus moves from merely surviving in a changing environment to thriving in it, we will continue to exploit this increasing openness to flexibility, agility, and innovative thinking as a community.
In that light, here are my forecasts for the individual trends that will have the most influence in 2022.
In 2022, the most significant trends are likely to revolve around the convergence of technological developments, as tools emerge that allow us to integrate them in new and amazing ways.
Companies are investing more and more in upskilling and developing their people for the long term, from AWS, Azure, and Google Cloud Platform to Python and microservices. These technologies are here to stay, and CIOs, CTOs, and VPs of technology departments understand how important they are. Cloud
Academy is a global company with thousands of people utilizing it daily in over 110 countries. Large corporations, as well as professionals and students learning technology, software development, and cloud computing for the first time, are among our customers.
Almost all customers, whether in the United States, Europe, or Asia-Pacific, recognize the importance of their people in building their digital future, and they want their people to have the skills they need to do so. People + Tech Skills are at the heart of every business wanting to develop with software and the cloud.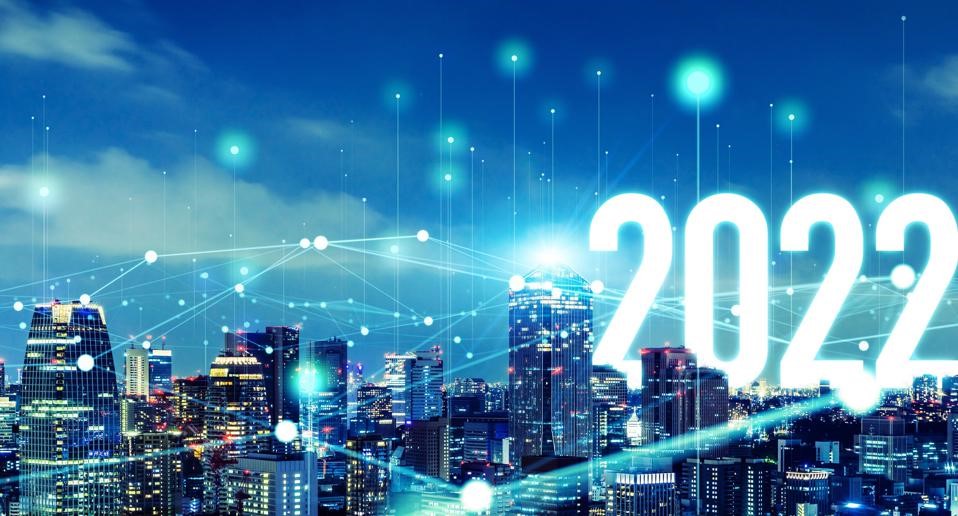 Figure 1-01-: Positive Side Of 2022
Artificial Intelligence
Today, "smart" refers to technology that is powered by Artificial Intelligence (AI)  specifically, machine learning algorithms  and capable of assisting humans in ever-more creative ways. Face recognition algorithms in smart cars identify whether we are paying attention to the road and tell us if we are becoming drowsy. Smartphones employ AI algorithms for everything from maintaining call quality to assisting us in taking better photos, and they are chock-full of apps that use AI to assist us in doing just about anything.
From the ubiquitous voice assistants to language translation to tools that allow us to extract structured data from pictures, whiteboard scribbles, and hand-written notes, AI has invaded the tools we use to carry out everyday work. It also drives a lot of the robotic process automation that has helped admin, logistics, accounting, and HR departments lessen their duties. Whatever industry or job function you are in, you are likely to find an AI-powered solution that will make your life easier.
This broad trend includes artificial intelligence (AI), the internet of things (IoT), and newly emerging super-fast networks like 5G, all of which are combining to give us capabilities we did not have only a few years ago. This emphasizes the notion that, on a longer timeline than the one we are looking at right now, convergence will be the most significant trend of all. Growing data quantities, quicker network and processor speeds, and data "democratization" are all coming together to have a far greater impact on society than the sum of their parts.
Figure 1-02-: Artificial Intelligence
The No-code Revolution And Everything As a Service
The expanding democratization of data and technology will be another increasingly important factor. In recent years, an entire industry has sprung up to put the knowledge and tools needed for tech-led innovation in the hands of as many people as possible, regardless of their level of competence or experience. Cloud solutions for storage, networking, and computing reduce costs and reduce the risks of building up expensive equipment to test new ideas.
Digitization, Datafication And Virtualization 
Many of us witnessed the virtualization of our offices and workplaces in 2020 and 2021, as remote working arrangements were quickly implemented. This was only a short-term spike in a longer-term trend. We will become more familiar with the concept of a "metaverse" in 2022, which refers to permanent digital realms that exist alongside the physical world we inhabit.
Transparency, Accountability And Governance
The concept of transparent and explainable AI has gained traction in recent years as it has become evident that certain portions of society distrust it and rightly so! The presence of the EU's planned Artificial Intelligence Act demonstrates that governments, too, see the necessity for a legal framework. Authorities are prohibited from utilizing AI to develop social score systems, as well as from employing facial recognition techniques in public spaces, according to the proposed legislation.
As more people become aware of the possible beneficial and harmful consequences on society that AI and other technology advances will have, this balancing act is expected to become a more prominent topic of discussion in 2022.
Solutions For A Sustainable Energy Future
Renewable energy was the only source of energy that witnessed an increase in use during the pandemic. During the first ten weeks of the lockdown, renewable energy usage surged by 40% in the United States. As industry shut down and people stayed at home, nonrenewable energy usage reduced globally, resulting in an 8% reduction in emissions. As a result, it is expected that in the coming years, more money will be invested in generating energy from renewable resources.
According to the International Energy Agency (IEA), 40 percent more renewable energy was created and consumed in 2020 than the previous year, and this trend is expected to continue through 2022.
IPSpecialist offers career advice and assistance. What is IPSpecialist, exactly? IPSpecialist is the answer to all of your problems. Among other things, we provide online courses, study guides, e-books, practice questions, and quick reference sheets. IPSpecialist is an e-learning portal that provides online training as well as career advice to help you advance in your career. Check out our wide range of Courses to get your dream job in 2022!