Introduction
The development of technology has made cloud computing incredibly well-liked. Every organization now uses cloud computing in some capacity in a world dominated by technology. According to a Gartner report, IT organizations will invest over $1 trillion in cloud computing technology in the coming years.
It is used, among other things, to manage neural networks and machine learning algorithms, scale applications effectively, and streamline workflow. This article will cover depth knowledge of Public, Private, and Hybrid clouds and their differences.
Check out our Cloud Computing Courses now if you want to start your career in Cloud Computing.
What is Cloud Computing?
Cloud computing is known as the on-demand distribution of computing resources like databases, storage, networking, servers, and software over the internet. It delivers resources or services kept on a remote virtual server. An electronic device can access the resources with a live internet connection. To access the services, the user is not required to be in a certain place.
Due to cloud computing, customers are free to concentrate on their businesses' objectives, which removes the heavy lifting tasks linked to configuration and setup from the device/user. It eliminates the hassle of owning and managing IT infrastructure and lowers the initial cost to the organization.
Why Do Businesses Need Cloud Computing?
Demands for scaling have grown unpredictable in a digital economy that is always changing. Businesses have several scaling obstacles, including small team sizes, erratic demand, and a lack of resources.
In situations like this, cloud computing is helpful. However, to select the solution that best suits the company, one must thoroughly grasp the on-premises setup and cloud-based computing before investing in a service.
Usually, businesses choose cloud computing for the following benefits:
Easy scalability
Server storage
Maintenance
Remote access
Data recovery
Controlled costs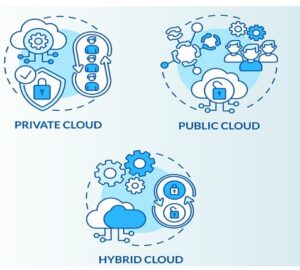 What is the Public Cloud?
The cloud computing architecture that uses online delivery of IT services is called the public cloud. The public cloud, the most widely used cloud computing service, provides a wide range of options for solutions and computing resources to meet the expanding needs of businesses of all sizes and industries.
Advantages of Public Cloud
People appreciate these public cloud benefits:
The infrastructure for deploying and maintaining IT requires no capital.
High flexibility and scalability to handle erratic workload demands
As the cloud vendor manages the infrastructure, the complexity decreases, and the need for in-house IT skills is lessened.
Various SLA offers are based on flexible price options.
The ability to adopt lean growth strategies and concentrate investments on innovative projects because to cost agility
Drawbacks of Public Cloud
There are some restrictions with the public cloud:
Since public clouds are inherently the least secure, they are not the ideal choice for important, mission-critical IT workloads.
Minimal Technical Control
The infrastructure's limited visibility and control might not meet the compliance requirements.
Example: A good example of a public cloud is Microsoft Azure.
What is the Private Cloud?
Any cloud service designed specifically for usage by a single business is referred to as a private cloud. A different vendor might locate or manage the datacenter resources remotely. The computing resources are provided via a secure private network and are not shared with other clients.
Private clouds can be tailored to a company's specific business and security requirements. Organizations may now manage compliance-sensitive IT workloads without sacrificing the security and performance previously only possible with specialized on-premises datacenters. It is due to increased visibility and control over the infrastructure.
Advantages of Private Cloud
The most popular advantages of private cloud are as follows:
Environments that are exclusive to one organization and are secure.
Organizations can implement protocols, configurations, and security mechanisms to tailor security based on specific workload requirements, enabling compliance with strict standards.
Scalability Without Tradeoffs
High economy and scalability to handle erratic needs without sacrificing performance and security.
High SLA performance and efficiency may be counted on from the private cloud.
The infrastructure can be changed in the private cloud to accommodate the organization's evolving business and IT requirements.
Drawbacks of Private Cloud
There are limitations to the private cloud that could restrict use cases:
Particularly for short-term use cases, the private cloud is an expensive solution with a relatively high TCO compared to public cloud alternatives.
Given the strict security measures, mobile users' access to the private cloud may be restricted.
Example: Private clouds include HP Data Centers, Microsoft, Elastra-private cloud, and Ubuntu.
What is the Hybrid Cloud?
Any cloud infrastructure architecture comprising public and private cloud solutions is called a hybrid cloud.
Usually, the resources are coordinated as part of an integrated infrastructure environment. Applications and data workloads can share resources between public and private cloud deployments following organizational business and technical standards on things like:
Security
Performance
Scalability
Cost
Efficiency
Advantages of Hybrid Cloud
Based on security, performance, and cost considerations, flexible policy-driven deployment can be used to spread workloads between public and private infrastructure settings.
It is possible to scale public cloud systems without endangering the security of sensitive IT workloads.
Maximum dependability is achieved by distributing services among several public and private data centers.
Drawbacks of Hybrid Cloud
The following list of hybrid cloud drawbacks is typical:
Switching between the public and private spheres can be challenging to manage, which results in wasteful spending.
Cloud infrastructure covering several regions and categories must have strong interoperability and integration. This is a drawback of public cloud deployments because businesses do not directly control the infrastructure.
Example: VMware Cloud on AWS, Google Anthos, Azure Stack, Azure Arc, and AWS Outposts.
How to Select the Right One?
Cloud computing models are not suitable for everyone. Each cloud service has characteristics and advantages make it appropriate for particular company needs.
Government agencies that handle sensitive data typically feel more at ease using private cloud services because security always comes first. However, because the public cloud approach lowers costs and offers greater flexibility, SMBs prefer to deploy it. A cost-efficient, dependable, and more secure hybrid cloud solution is a smart combination of private and public clouds.
 
Public Cloud

 

Private Cloud
Hybrid Cloud
Pros
·         Flexibility

·         Data Recovery

·         Reliability

·         Cost-effectiveness

·         Maintenance

 

·         Added security

·         Improved performance

·         Increased availability

·         Better control

·         Flexibility

 

·         Reliability

·         Scalability

·         Agility

 

Cons
·         Security Vulnerability

·         Control issues

·         Customer support

 

·         Expensive

·         High maintenance cost

·         Too many options – it cannot be easy to make the right choice

 

·         Investment

·         Security

 

Pricing
·         More affordable

·         Pay for resources you use

·         Do not have to pay for additional resources

 

·         Fairly expensive

·         Scaling is costly

·         Pays off in the long term

 

·         Combine the pricing models of both private and public clouds.

 

Providers
·         Amazon Web Services (AWS)

·         Microsoft Azure

·         OpenStack

 

·         Amazon Web Services (AWS)

·         Google Cloud

·         Microsoft Azure

·         OpenStack

 

·         Microsoft Azure

·         VMWare

·         Rackspace

·         IBM

·         CISCO

 
Conclusion
When switching from physical on-site servers to virtual servers, it is crucial to consider which cloud service best satisfies the company's needs and goals. Prioritizing needs should primarily be done in terms of cost, scalability, security, flexibility, and data control.
After considering all of these variables, thoroughly evaluate the options provided by the cloud service provider to determine which cloud model best fits the company.