Introduction
Organizations and industries across all sectors are seriously at risk from cyberattacks. As technology develops, cybersecurity remains an area that needs considerable consideration. However, many people's cybersecurity plans need to be improved and improved. Lack of risk identification, risk mitigation, and industry compliance are all examples of common flaws that make firms more open to attack.
Businesses run the danger of negative incidents that tarnish their reputations and result in expensive fines. Due to this, having an efficient cybersecurity risk management program is essential to business continuity rather than just an option. This article covers detailed knowledge of the benefits of implementing a cybersecurity risk management system.
What is Cybersecurity?
Cybersecurity is the practice of protecting electronic information from unauthorized access or theft. This includes everything from our data (like addresses and Social Security numbers) to sensitive company information (like trade secrets or customer records). With so many different types of data floating around online, we must take steps to protect it.
There are several different ways that cybercriminals can access this information. They may install malware on our computers without our knowledge, for example, or they may "phish" our passwords by sending us fake emails that appear to be from a legitimate source. Once they have our passwords, they can access our accounts and steal our information.
What is Cybersecurity Risk Management?
Cybersecurity risk management identifies, assesses, and manages risks to an organization's data, systems, and reputation. Cybersecurity risks are ever-present in today's digital world and can come from various sources. As a result, businesses need to have a comprehensive Cybersecurity risk management plan.
Cyber Risk Management Frameworks
There are various frameworks for managing cyber hazards, and each one offers guidelines that organizations can use to pinpoint and reduce risks. These frameworks are used by senior management and security leaders to evaluate and enhance the organization's security posture.
Organizations can assess, monitor, and define security policies and procedures to address threats with a cyber risk management framework. Here are a few popular frameworks for managing cyber risk.
A well-known framework is the NIST CSF (National Institute of Standards and Technology Cybersecurity Framework). The NIST CSF framework offers a complete collection of best practices that standardize risk management. Protect, detecting, identifying, responding, and recovering are key activities and results for cybersecurity risk management.
The International Organization for Standardization (ISO) has created the ISO/IEC 27001 in partnership with the International Electro-technical Commission (IEC). The ISO/IEC 27001 cybersecurity framework offers a certifiable set of standards defined to systematically manage risks posed by information systems. Organizations can also use the ISO 31000 standard, which provides guidelines for enterprise risk management.
The criteria that DoD institutions must follow while evaluating and mitigating cybersecurity threats are laid forth in the Department of Defense's (DoD) Risk Management Framework (RMF). The categorization, choice, implementation, assessment, authorization and monitoring processes are the six main ones in the RMF breakdown of the cyber risk management strategy.
Enterprises can assess, look at, and understand information dangers due to the Factor Analysis of Information Risk (FAIR) framework. The objective is to help businesses make educated decisions while developing cybersecurity best practices.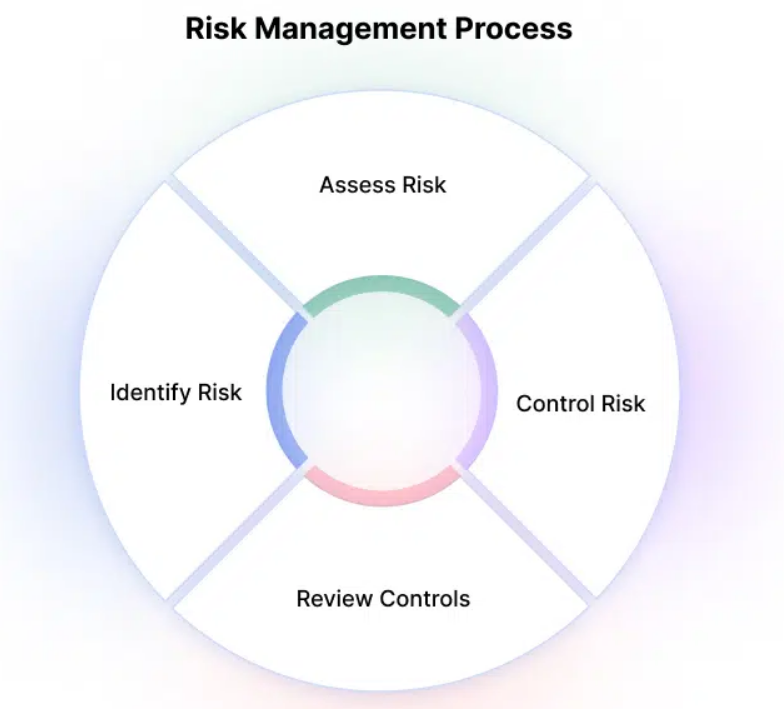 The following section covers the benefits of implementing an effective risk management strategy in Cybersecurity:
Protection From Data Breaches
A cybersecurity risk management system can help protect your business from data breaches. By identifying potential vulnerabilities and implementing security measures to mitigate those risks, you can help ensure that your customer data remains safe and secure.
When you have a strong risk management strategy in place, ensuring enough staff and resources to keep all projects on track, your IT team will not have to deal with crises all the time. A cybersecurity plan can provide better IT assistance, boost productivity, empower employees to tackle cyber challenges more successfully, and enhance your business's bottom line.
Protect and Maintain Business Reputation
Your company's reputation might be destroyed by a significant data breach, making it tough for you to entirely win back your consumers' trust. A solid cybersecurity risk management approach can assist you in prioritizing important risks and avoiding these assaults. By doing this, you may continue to develop and maintain trust with your clients.
Eliminate or Reduce Downtime
ITIC's Hourly Cost of Downtime Survey shows that, excluding legal fees, fines, and penalties, 44% of organizations estimate that hourly downtime costs surpass $1 million to over $5 million. Any form of assault, whether it be phishing scams, DDoS attacks, or ransomware, can cause hours of interruption for your company. Unfortunately, downtime during an attack can prevent clients from accessing crucial services, prevent staff members from working efficiently, and lose you a ton of money.
Increase Employee Engagement and Education
A risk management strategy can help employees as well as shareholders and clients. Due to the social security numbers, credit card numbers, birth dates, phone numbers, and other personal information that may be included in employee information, a breach may occur. Organizations with strong risk management strategies empower employees to feel confident knowing their data is always protected from illegal access. Employee engagement increases as a result, and employees who are more aware of potential common dangers to their organization are more productive overall.
Implementing a robust risk management strategy guarantees that access permissions are given to the appropriate staff and that confidential company information is shielded from leakage to rival businesses. A risk management strategy helps the firm set up fail-safes for any cyber assault, putting you in a position for disaster recovery. A risk management strategy will ultimately provide you with a competitive edge by demonstrating to potential clients how seriously you take the security of their data and how well-prepared you are in case of a breach.
To Comply with Regulations
In some industries, complying with regulations related to cybersecurity is mandatory. If your industry fits this description, failing to manage risks properly could result in severe fines or even jail time. You should be motivated to take cybersecurity risk management seriously just by this.
Conclusion
Any successful business must have effective risk management. An effective risk management strategy has the potential to reduce losses, protect investments, and improve operational efficiency for any organization. By developing a comprehensive plan for managing risks, businesses can ensure that they remain competitive in their industry while minimizing any potential losses that could occur due to unexpected events or poor resource allocation decisions.
Check out Our Courses Now!
To start your career in Cybersecurity