Introduction
Web applications are programs that users can access using a web browser and are a component of a company's online presence. Application Programming Interfaces (APIs) that enable programmatic access to a company's web applications may also be incorporated into this presence.
Various security modules are offered by cloud WAAP services, which are based on an auto-scaling, multitenant cloud architecture. Bot mitigation, WAF, API protection, and DDoS protection are the main components of Cloud WAAP. For every module, a different level of protection is conceivable.
Cloud Web Application and API Protection (WAAP) services are frequently offered with extra service elements that might enhance the performance of web applications. This article covers detailed knowledge of Web Application and API Protection.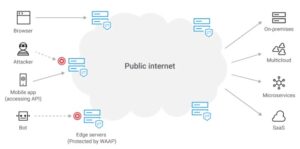 Why Is WAAP Important?
WAAP may access sensitive data and are available via the public internet; web applications and APIs are prime targets for hackers. As conventional security measures cannot adequately protect these applications, WAAP is essential.
Traditional security measures are ineffective for the following reasons:
Signature-based Attack Detection is Ineffective
Dangers to web apps are ever-evolving. It needs to be more scalable to protect against them using signature-based detection tools. Continuous self-learning provided by WAAP solutions enables enterprises to stay ahead of the evolving landscape of application security threats.
Port-based Blocking will not Work
Standard firewalls filter traffic based on the active protocols and ports. Using the same web ports and protocols by users, such as HTTP(S), in attacks against web applications and web APIs makes it impractical to filter out malicious traffic solely. To differentiate prospective assaults from legitimate communications, a more thorough level of screening is required.
HTTP Traffic can be Involved
Cybercriminals leverage this complexity to hide dangerous content by using web applications. For identifying and defending against threats to online applications, the level of security inspection provided by a traditional intrusion detection and prevention system (IDS/IPS) needs to be increased.
Web Application and API Protection Service: Key Capabilities
Services for complete web application and API protection shield your web apps and APIs from various threats. Before a request reaches an API endpoint or an application, a WAAP service must successfully inspect it.
The core capabilities of a comprehensive WAAP service include the following:
Next-Generation Web Application Firewall (Next-Gen WAF)
Safeguards and keeps an eye on web applications at the application layer, where they are deployed, against various threats. A next-generation WAF is different from a standard WAF in that it blocks assaults using behavioral analysis and Artificial Intelligence (AI) rather than only relying on manual security rules and well-known attack patterns.
Runtime Application Self-Protection (RASP)
This provides APIs and online applications with real-time threat defense embedded in the application runtime domain.
Isolates and blocks suspected bot attacks while allowing safe bot traffic to get through to the application.
Protects against application-level abuse that harms the performance of websites and APIs.
Protection for Microservices and APIs
Creates a context- and data-aware micro perimeter around each unique service by integrating security into the microservice, application, or serverless function.
Account Takeover Protection
Measures to prevent hackers from exploiting stolen credentials obtained from password lists and data dumps. Detects illegal access to user accounts through authentication APIs or the user-facing authentication procedure of an application.
Distributed Denial-of-Service (DDoS ) Protection
DDoS protection measures at the application and network layers for applications, APIs, and microservices. Able to expand to defend against attacks of a large scale.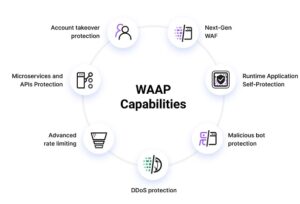 Considerations for Evaluating a Cloud WAAP Service
Here are a few methods users can use to determine whether a WAAP solution is the best choice for your company.
Regulatory and Cultural Constraints
In addition to effective regulatory restrictions, organizations may push back out of concern about legal difficulties. The adoption of cloud-based security services, such as cloud WAAP services, may need to be improved by this.
Among the principal difficulties are:
Allowing a third-party cloud solution to handle application secret keys, decrypt TLS connections, and log sensitive client data that data residency rules may govern.
Budgets should be adjusted to the provider's SLAs and pricing structure.
Some WAF appliance features, including URL and form protection, cookie signing, and Cross-Site Request Forgery (CSRF) tokens, are absent from several Cloud WAAP services. This delays adoption in businesses already using this technique and seeking a lift-and-shift strategy for cloud application security.
Application Security Testing (AST) and SIEM are two enterprise ecosystem components frequently left out of the integration of WAAP services that are created from scratch rather than based on well-established WAF solutions. They might also offer a few setups and log retention options. It is possible that cloud WAAP service monitoring consoles do not provide real-time log entry.
Is a Web Application Firewall the Same Thing as Web Application and API Protection?
No, WAAP is the development of a WAF. WAAP stands for Web Application and API Protection. By offering a filter that detects attack patterns and restricts access to the target app or API, a Web Application Firewall (WAF) is a component that completes web application and API protection levels. Policies are the set of guidelines that define a WAF's filtering capabilities. Modern WAFs modify their behavior to fit the app's execution environment, including virtual machines, hybrid environments, serverless functionalities, cloud native dynamic clusters, etc.
The Challenges of Protecting Web Applications and APIs
Organizations face new application security concerns due to the ongoing complexity and evolution of web applications. The increasing use of APIs in modern web applications and microservices for almost all interactions widens the attack surface and creates new opportunities for hackers. There are already more than 180,000 known software vulnerabilities, and hundreds more are found yearly.
Cybercriminals have reacted by launching more complex multi-vector attacks as the application attack surface has grown. Attackers can successfully enter IT infrastructures, take control of user accounts, move money to phoney accounts, halt business activities, and conduct severe cyberattacks by often deploying automated bots, botnets, and vulnerability scanners.
Security teams have implemented web application and API protection solutions to counteract these DDoS and API-based attacks. However, many of these tools rely on conventional Web Application Firewalls (WAFs), which must be adjusted regularly as applications change, threats change, and new updates are made available. These WAF solutions are frequently practically unscalable due to the time and effort that expert operators must invest in manual adjustment. Due to this, WAF security rules and policies can quickly become outdated, leading to a flood of notifications that overload security professionals and make it difficult to distinguish between accurate attacks and false positives. Security teams needing help to adjust rules effectively may pull their defenses out of line as alert fatigue sets in to prevent affecting users and disrupting the business.
Conclusion
With WAAP, you can remove threats from entering your system, prevent hackers from accessing it, and more. With a new WAAP solution, protect your reputation and your business!