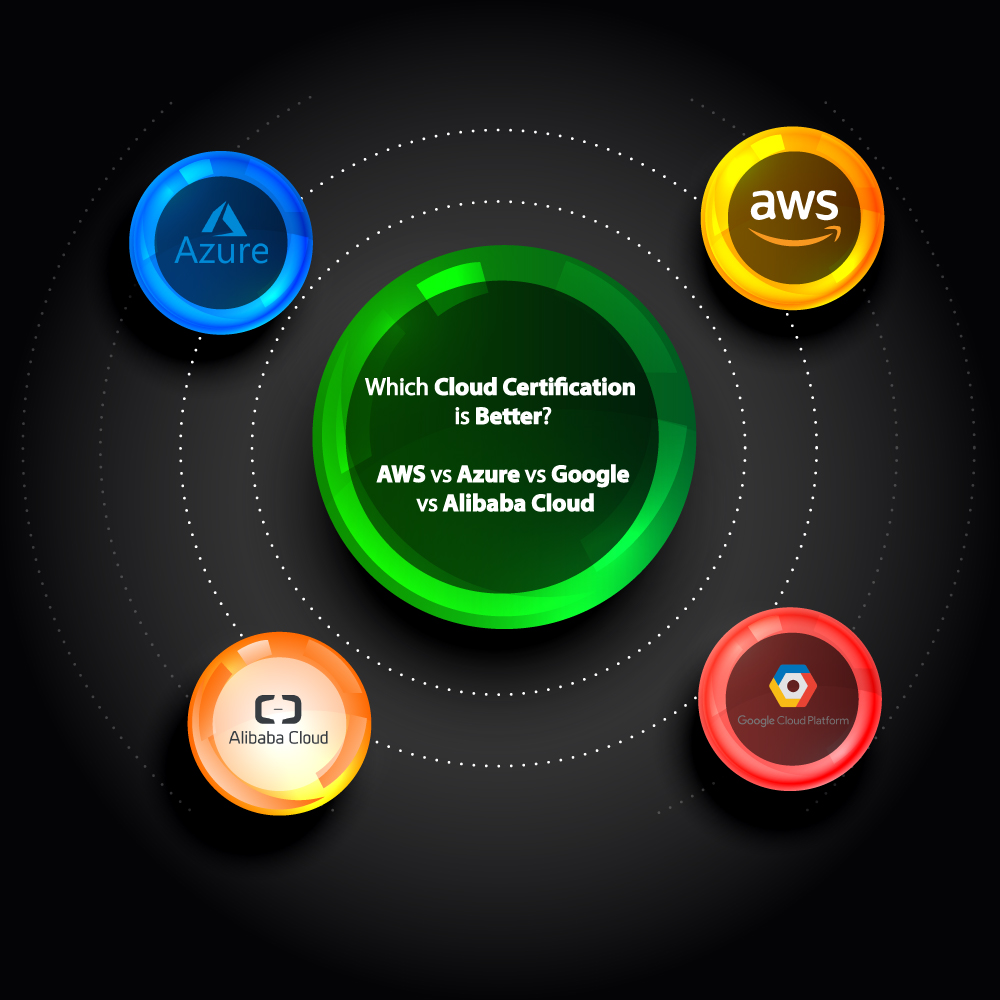 People working in the field of IT are very
well aware of the competition in today's marketplace. To be the best fit in the
current market scenario, you need to have an edge over  others. But is it that easy? Certainly not. With
the rapid development and growth in technology, you need to be very well aware
of the trending technologies. Here is an advice, do some research, meet
experienced professionals to choose a career path, and collect certificates of
mastery in the chosen field to be a worthy participant in the battle that is happening
in the IT industry.
In recent years, cloud computing has become a popular term as organizations have started adopting it. With the recent developments, now is the best time to start a career in cloud computing. It is still new, therefore, it can provide you the competence that you are looking for. Here, we will talk about the certification path of the leading public cloud service providers that include AWS, GCP, Azure, and Alibaba cloud.
It is difficult to decide which certification holds more value; since AWS holds most of the public cloud market share with an increasing growth rate of 49%. AWS certifications are of significant value. Also, Microsoft and Google are well-known giants in the tech industry, they are growing their strength in the cloud war by providing more enterprise-focused solutions. Alibaba cloud is newer than these three, but their offerings are more for start-ups and small business oriented. For that reason, Alibaba cloud is also gaining ground in the market.           
Amazon Web Services (AWS) started in 2006 and is now the most dominant service provider in the cloud domain. According to analysts, AWS possesses more than 30% of the global cloud infrastructure. AWS offers more than 90 services for everything. From compute, storage, and databases to machine learning and IoT. They offer a wide range of certifications in different aspects of cloud computing such as architecture, operations, development, etc. AWS Certified Solutions Architect both Associate and Professional are the most in-demand certifications. The certification path of AWS is as follows:
AWS also offers specialty certifications
for experienced professionals. The specialty exams include:
With the recent growth in machine learning
and artificial intelligence aspects of computer sciences, AWS has released a
new certification named AWS Certified Machine Learning – Specialty. AI and ML
are the top trends in technology, to stay on the top of cloud service
providers, AWS has to offer such a certification because people who are
adopting cloud require all services on the cloud platform. With an AWS
certification in hand, you can easily fit in the organizations that are already
using AWS for their business's IT infrastructure. Since AWS is well known, so
an AWS certification can open doors for cloud opportunities.
Microsoft Azure
Microsoft Azure was announced in October
2008 and released on February 1, 2010, as Windows Azure before being renamed to
Microsoft Azure. Microsoft lists almost six hundred services provided by Azure
that include compute, mobile, storage, media, CDN, etc. Azure provides SaaS,
PaaS, and IaaS services and supports many programming languages, tools, and
services either Microsoft-specific or third-party software and systems. Recent
researches say that Microsoft is incredibly gaining ground on the leading AWS,
specifically among enterprises with a growth rate of 52%. Azure's adaptation
rate is 85% and it is more than that of AWS's last year 70%. If you go for an
Azure certification, this definitely will lead you to your highly paid dream
job. Azure certifications are role-based that makes a path from the fundamental
level to Associate level and then to Expert level. There are five different
roles particularly based on Azure; these include:
Azure Developer Associate
Azure Solution Architect Expert
Azure DevOps Engineer Expert
Just find out where you can
fit best and go for an Azure certification, public cloud is shifting to Azure,
therefore, you have great chances of getting a job that you might have dreamt
of.
Similar to the two giants, Google also provides IaaS, PaaS, and
Serverless computing environments that developers can use to build and host
apps. Google announced App Engine in 2008 and later, it evolved to include more
services and tools. Google lists over 90 services under the Google cloud brand
name, some of the key names include App Engine, Compute Engine, Kubernetes
Engine, and Cloud Functions. GCP also provides Big Data and AI tools other than
traditional cloud services such as compute and storage. With all these
features, Google can be an opponent in the near future for AWS and Azure.
Similar to the Cloud Giants, Google certified programs are available on the
cloud platform. These programs include:
Associate Cloud Engineer
Professional Data Engineer
Professional Cloud Architect
Professional Cloud
Developer
Professional Cloud Network
Engineer
Professional Cloud Security
Engineer
G Suite
For the year 2019, Google certified Professional Cloud Architect is
considered the best-paying certification.
Alibaba cloud is a Chinese cloud computing company, a subsidiary of
Alibaba Group. Alibaba provides cloud services to online businesses and
Alibaba's own e-commerce ecosystem. Alibaba cloud offers cloud services, such
as Compute, Storage, RDS, Big Data, Anti DDoS, and CDNs.
Alibaba cloud is the largest cloud computing company in China and it is
also spread across the world with its 19 data center regions and 56
Availability Zones. That is why Alibaba cloud is placed in the Visionaries'
quadrant of Gartner Magic Quadrant for cloud IaaS, worldwide. Alibaba does not
only offer certifications in cloud domain, but it also offers certifications of
mastery for Big Data and Security domains of computing. Alibaba Cloud has three
levels of mastery:
ACA Cloud Computing Associate
ACA Cloud Computing Professional
ACA Cloud Computing Expert
Alibaba is relatively cheaper than all of its competitors, therefore, as
a service provider, it is more appealing to startup businesses. You can opt for
an ACA certification if you have an entrepreneurial mind.
Conclusion
We have discussed all of the well-known names in the field of Cloud
Computing. We have also discussed their growth rate and services that they offer.
It is really difficult to choose which one is the best. If you are an
experienced IT person who is working for a long time in the industry, in my
opinion, you should go for an AWS certification as it would look more or less
the same as on-premises IT, if you are a startup business owner, go for
Alibaba. But still, it is you who have to decide a learning path, Do it now!