Introduction
Satya Nadella, CEO of Microsoft, and Larry Ellison, Chairman, and CTO of Oracle Corporation, announced the release of the Oracle Database Service for Microsoft Azure on 20 July 2022. Azure clients can provision, access, and operate enterprise-grade Oracle Database services in Oracle Cloud Infrastructure (OCI) with a familiar Azure-like experience due to this new fully managed offering. Users can construct Azure applications smoothly by leveraging the high-performance, high-availability, and automated management of Oracle Database services such as Autonomous Database running on OCI.
Read this article to learn about the latest Oracle Database Service announcement for Microsoft Azure.
Check out our Cloud Computing Courses now if you want to start your career in Cloud Computing.
What is Oracle?
Oracle is an Oracle Corporation software that provides a Relational Database Management System (RDBMS). RDBMS can handle any data model. Oracle products are scalable, secure, and capable of high performance.
Importance of Oracle
It is one of the earliest companies that offers database administration solutions. The organization has prioritized Enterprise requirements and recognized the most recent technological advancements. As a result, its products are constantly enhanced with new features. The most recent Oracle database, 19C, is available on Oracle Cloud. It allows users to select from various database editions to provide a cost-effective solution.
Why do We Use Oracle?
It is a piece of database administration software. A database is a structured collection of information. A database management system stores data and provides high-performance, authorized access, and failure recovery features. It provides an easy-to-use software solution for managing database operations ranging from Personal to Enterprise level applications.
What is Microsoft Azure?
Microsoft Azure is a publicly accessible cloud computing platform that provides cloud computing, storage, and networking services. You can handle and save data depending on your needs.
Benefits of Microsoft Azure 
To safeguard data at rest, transit, and use, Azure employs a multi-layered security strategy.
Azure is supported by Microsoft's enterprise-grade infrastructure and takes advantage of a global network of Microsoft-managed datacenters. Azure can provide virtual computers, storage, databases, and communications services.
Users can construct and manage virtual machines using an Azure-compatible Windows OS. Storage, messaging, and other applications are among the services offered for Windows.
SQL Azure is a fully-managed database service that allows users to utilize the Microsoft SQL Server database engine to store, manage, and analyze data. Using SQL Azure, users can store data in the cloud and retrieve it from any Web browser or mobile device.
HTML5, CSS3, JavaScript, and other web technologies can be used to make a website. Users can also use templates to deploy websites in the cloud quickly.
Windows Azure Mobile Services
Mobile devices and tablets make it simple for users to create and store data. They can use a Web browser to access, edit, and manage their data.
Why Use Azure?
In Azure, you may build any web application.
After successfully constructing an application on the platform, you can test it.
After testing is completed, Azure can assist you in hosting the application.
Construct Virtual Machines
With the aid of Azure, you may create virtual machines in any configuration you desire.
Sync and Integrate Features
Azure allows you to integrate and sync virtual devices and folders.
Azure allows you to collect and store analytics to assist you in figuring out what works.
Offering Customers Choice with Azure and OCI Multi-Cloud Capabilities
With the launch of Oracle Database Service for Azure, Microsoft and Oracle are expanding their relationship to simplify the multi-cloud experience. The Oracle Database Service for Azure extends the basic capabilities of the OCI-Azure Interconnect, allowing any client to interconnect workloads on Microsoft Azure with Oracle Database services on OCI. Customers who use the service benefit from the fact that there are no data egress or ingress expenses when moving data between OCI and Azure.
An OCI-Managed Service with Familiar Experience for Azure Users
Databases operating on OCI can now be treated like an Azure resource by Azure teams due to the new Oracle Database Service for Azure. Users can quickly link their OCI tenancy to their Azure subscriptions. The solution makes it simple for Azure users to access the service by federating IDs from the Azure active directory and instantly configuring everything needed to connect the two cloud environments. For deploying and maintaining Oracle database services on OCI, it also offers an API experience and user interface similar to that of Azure.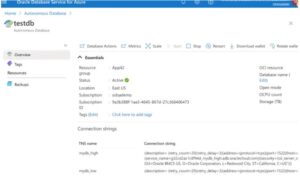 Once your databases are operational, the service sends all of your Azure data, including OCI database metrics, events, and logs, to Azure for unified telemetry and monitoring.
Additionally, the service streamlines customer help by using a collaborative support paradigm to provide an easy issue resolution procedure that may be started with either Oracle or Microsoft.
Microsoft Azure combines enterprise-grade Oracle database performance, dependability, and automation. The underlying OCI Oracle database systems are fully used by applications operating on Azure, including the high performance, scalability, and availability made possible by Oracle Real Application Clusters (RAC). Oracle maintains the infrastructure for all OCI database services, and database lifecycle management is automated. Additionally, all database monitoring, tuning, patching, and upgrades are handled when you use the fully automated Autonomous Database setup, allowing you to concentrate on developing applications and expanding your business.
Azure applications that use databases on OCI's Exadata Database Service and Autonomous Database take advantage of the special underlying optimizations of Exadata to process more transactions per second than non-Exadata environments and to speed up query results by using internal SQL latency of under 19 microseconds and tens of millions of IOs per second.
With internal database scan speeds ranging from 100 GB/s to 10 TB/s and a maximum database capacity of 30 petabytes, analytical queries from Azure applications like Power BI can now operate at extremely high throughput at scale.
Conclusion
Oracle Cloud Infrastructure assists customers with their hybrid and multi-cloud initiatives. Customers can develop or migrate mission-critical workloads with their app tier in Azure and database layer in OCI using this new Oracle Database Service for Microsoft Azure.