Introduction
The development of digital communication has changed the business environment. Geographical limitations no longer restrict businesses. Businesses can contact customers and clients anywhere in the world with a button. But this new environment also presents fresh difficulties. Businesses today need to differentiate themselves in a global economy and do it fast and effectively.
Utilizing Communication as a Service (CaaS) is one-way companies are addressing these issues. Businesses can manage their communications using a cloud-based platform provided by CaaS. Voice, video, chat, and other means of communication are included. Businesses may manage their communications through CaaS, which can help them save time and money.
"Communication as a Service" (CaaS), is offered to clients by CaaS companies and is based on cloud computing. Nowadays, Communication is the most important factor in any business. The company can expand quickly with the aid of a complete communication solution. Cloud companies offer Communication as a Service (CaaS), a cloud-based solution.
CaaS is excellent for small IT companies that are set to grow. This article will cover the detailed knowledge of Communication as a Service (CaaS).
Check out our Cloud Computing Courses now if you want to start your career in Cloud Computing.
Features of CaaS
Integrated and Unified Communication
Some more advanced unified communication features include chat, multimedia conferencing, Microsoft Outlook integration, real-time presence, "Soft" phones (software-based telephones), video calls, unified messaging, and mobility.
CaaS vendors now add new features to their CaaS services more swiftly than ever. It has become more affordable for providers to rapidly add a new feature to their CaaS applications since the end customers' benefit from the provider's scalable platform architecture. The expense of the enhancement was ultimately shared among the many customers who use the provider's services.
No Investment Required
The CaaS provider is the sole gear and software manager utilized to provide the communication service to their clients.
Flexibility & Scalability
Customers can enter into contracts with CaaS providers for communication services. Customers make payments for the goods they have ordered. The consumer may enhance their service requirements following their needs. This makes communication services scalable, versatile, and affordable.
No Risk of Obsolescence
The CaaS suppliers frequently change the hardware and Software that provide communication services to stay up with shifting market demands. As a result, customers should not worry that the services will become obsolete.
No Maintenance Cost Incurred
The customer outsources the CaaS service and is not responsible for the maintenance costs of the technology used to provide communication services.
How Does Communication as a Service (CaaS) Work?
Business users who choose CaaS can pay-as-you-go and deploy communication features (hardware and Software) throughout their business. The CaaS vendor creates extensive, adaptable, and simple-to-comprehend service plans for their customers.
According to the service level agreement, the CaaS vendors guarantee communication service quality. CaaS is a completely hosted solution that uses cloud-based technology and can be used with many different operating systems, including Windows, Linux, Android, and iOS. As a result, the CaaS may be accessed through various connected devices, including smartphones, tablets, TVs, laptops, and PCs.
CaaS makes a network flexible by abstracting its ability to handle peak loads for customers. Depending on the needs of the CaaS customers, the network capabilities can be increased to increase the network capacity, devices, and area coverage. The network capabilities can be expanded dynamically to avoid wasting resources in response to consumer demand.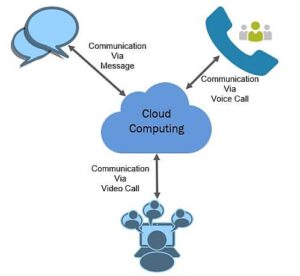 Who Should Use CaaS?
Consumer CaaS solutions like Skype, FaceTime, and instant messaging apps like Facebook Messenger are widely known. However, communication over the open internet has taken a while for the general population to accept.
It is important to note that VoIP is not a public-internet option and may also be used through LAN/WAN or dedicated circuits. By installing on-site IP-based PBX systems, business users have substantially benefited from VoIP's cost advantages. By allowing the company to run the corporate telephony system on the same network used for data, they offer significant cost advantages by removing the need to install and run separate networks for voice and data. However, most small-to-medium sized enterprises cannot afford these systems due to their high cost to buy, configure, and administer (SMBs).
Advantages of Communication as a Service (CaaS)
By eliminating customers from investing in the infrastructure and Software necessary for communication services, CaaS offers an affordable option to give communication services to their customers.
The CaaS vendor offers its clients round-the-clock support.
Customers who use a CaaS vendor's services are not required to spend money or time administering the CaaS components.
CaaS vendors provide flexible services because they bill on a pay-as-you-go basis.
They deliver services in response to consumer demand, CaaS offers scalable services.
CaaS offers a hosted and managed solution that only has one vendor manage all aspects of communication.
Since the vendors are in charge of updating the carrier platform, there is no danger of the service becoming dated from the client's standpoint.
Drawbacks of CaaS
However, employing CaaS may have several disadvantages that enterprises should be aware of:
One potential drawback of CaaS is the loss of control over the quality of service. While providers of CaaS typically offer high-quality service levels, there is always the potential for problems to arise. Businesses may not have many options if there are problems with service quality besides changing suppliers.
Another potential drawback is the cost of CaaS. While the upfront costs may be lower than traditional communication solutions, the ongoing costs can add up over time. Businesses should consider the total ownership cost before signing up for a CaaS solution.
Finally, businesses should know that CaaS solutions are hosted in the cloud. This means that businesses will need to have reliable Internet access to use the service. If there are any problems with the Internet connection, the CaaS solution will not be available.
Applications of CaaS
Organizations of all sizes are turning to Communication as a Service (CaaS) providers to enhance collaboration and client engagement. CaaS is provided via the cloud, making it highly scalable and adaptable to the requirements of companies of all sizes.
Businesses can utilize CaaS to enhance internal staff collaboration and communication with clients and partners. Through CaaS, companies can benefit from tools like video conferencing, VoIP, and instant messaging to enhance internal and external communication.
CaaS suppliers provide a range of features and price options to satisfy the requirements of various enterprises. While some providers offer more complete plans with a wider choice of services, others offer basic plans with the bare minimum of functionality.
Conclusion
By encouraging considerable gains in productivity, cooperation, and Communication, CaaS solutions may guarantee that both the public and private sectors stay competitive.
Through cloud services that effortlessly communicate with one another, teams will optimize their daily tasks, creating a workplace populated by true information workers. Businesses can manage customer interactions in a scalable, flexible, and economical manner using CaaS, which uses the cloud.