Introduction
New technologies are always evolving, and new devices and users are constantly being added. This has increased the organizational demand for individuals with a broader skill set but a stronger emphasis on a few specific subject areas. The field of technical networking has now developed into strategic networking' areas. In this expanding demand for corporate talent, certified professionals have a distinct advantage in terms of career advancement.
According to a recent survey, 78% of hiring managers consider technical credentials a crucial success element in their hiring process. Technical qualifications are now used as a critical consideration for recruiting decisions by over 99% of organizations. This article covers the detailed knowledge of Cisco CCNP Enterprise Certification.
Cisco Certifications
Cisco Systems, Inc. is a global technology giant that specializes in networking and communications products and services. The company is arguably best recognized for its business switching and routing technologies, which direct data, audio, and video traffic across global networks.
Cisco certificates are highly recognized and valuable credentials that an IT infrastructure professional can obtain. Cisco certification training courses are required for success, whether you are preparing for your CCNA, CCNP, CCIE, or CCENT exams.
Cisco's training and certification programs have been revamped to address today's dynamic technologies and to enable students, engineers, and software developers to succeed in the industry's most critical roles.
Cisco Certified Network Professional (CCNP) Enterprise Certification 
The new CCNP Enterprise certification incorporates programmability and automation to help organizations extend their networking infrastructure. The CCNP Enterprise certification verifies a candidate's knowledge of enterprise networking solutions. To be certified, the candidate must pass one core exam and one concentration exam.
Cisco certificates have always been highly sought after. The Cisco Certified Networking Professional Enterprise (CCNP Enterprise) is one such certification that verifies professionals' unique expertise in complicated networking domains. It broadens architectural understanding as well as implementation abilities needed for enterprise networks.
Prerequisite of Cisco CCNP Enterprise Certification
Before earning the CCNP Enterprise certification, candidates must have three to five years of experience dealing with enterprise networks.
Having hands-on experience in designing, deploying, and troubleshooting enterprise networks can be beneficial in understanding the concepts covered in the certification exams.
CORE Certification 
This exam earns the 'Enterprise Core Specialist' credential for Implementing and Operating Cisco Enterprise Network Core Technologies (ENCOR Exam 350-40).
The current exam version is 1.2, replacing the previous version, 1.1.
The core exam OBJECTIVES can be summarized below:
The hierarchical network design model and architecture will be depicted using the access, distribution, and core layers
While defining Ternary Content Addressable Memory (TCAM) and Content Addressable Memory (CAM), process switching, rapid switching, and Cisco Express Forwarding principles, compare and contrast the various hardware and software switching processes and actions
Define the orchestration plane, management plane, control plane, and data plane components and characteristics of Cisco SD-WAN solutions
APIs in Cisco DNA Center and vManage are described
Explain how APs interact with WLCs to receive software, configurations, and centralized management
Explain network programmability protocols such as NETCONF and RESTCONF
Describe the wireless networking components and principles, including Radio Frequency (RF) and antenna properties, and define the specific wireless standards
Describe the ideas and characteristics of Quality of Service (QoS) and its necessity in a corporate network
Describe the enterprise network security architecture, including Virtual Private Networks (VPNs), content security, logging, endpoint security, personal firewalls, and other security features
Describe the Enhanced Interior Gateway Routing Protocol (EIGRP) features, metrics, and path selection ideas
Describe the various wireless deployment models available, such as autonomous Access Point (AP) deployments and cloud-based designs inside the Cisco Wireless LAN Controller (WLC) architecture
Explain the virtualization technique in servers, switches, and numerous network devices and components
Describe wireless roaming and location services
Explain essential Python components and conditionals with scriptwriting and analysis
Explain how to use available network analysis and troubleshooting tools, such as show and debug commands, as well as best troubleshooting practices
Implement scalable administration utilizing Authentication, Authorization, and Accounting (AAA) and the local database while examining the capabilities and benefits
Implementation of redundant switched networks using Spanning Tree Protocol
Concentration Certification
This exam covers SD-WAN, network design, automation, and wireless networks. The candidate may select one of the following six areas:
This concentration exam's OBJECTIVES are as follows:
Install a secure wireless client and resolve wireless client connectivity issues.
Implement and troubleshoot sophisticated wireless network services capabilities.
Configure your network to provide a secure wireless network infrastructure.
Following are the CCNP Enterprise Concentration exams: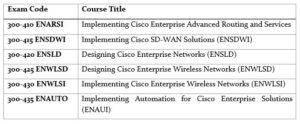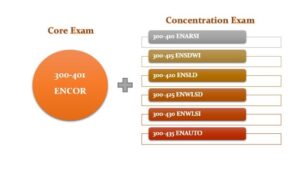 Is the CCNP Certification Valuable in 2023?
The CCNP has evolved much in recent years, but it is still valuable in 2022. The CCNP Enterprise certification is valuable in 2023 because it validates your ability to work with enterprise-level network configurations and management. The CCNP Enterprise is worth it in 2022 for administrators who work for firms that rely on large, campus-wide networks to showcase their experience and competence.
How Challenging is the Cisco CCNP Enterprise Certification?
The CCNP Enterprise exam is challenging. Passing a detailed core exam and a specialized concentration exam, which can be even more challenging, is required to get the CCNP Enterprise. Cisco deliberately made the CCNP Enterprise difficult because managing and configuring an enterprise network is serious work, and they want businesses to be able to trust their administrators who earn the certification.
Who Can Take the CCNP Enterprise Certification?
The CCNP Enterprise certification is intended for network professionals seeking to demonstrate advanced knowledge and skills in enterprise networking technology.
This certification is ideal for network engineers, network architects, and system administrators with at least three to five years of experience working with enterprise-level networking solutions.
To earn the CCNP Enterprise certification, candidates must pass two exams: the core exam, which covers enterprise networking technologies, and one concentration exam, which allows candidates to focus on a specific technology area, such as automation, wireless, or security.
Before attempting the CCNP Enterprise certification, candidates should have a solid understanding of enterprise networking technologies, including routing and switching protocols, network security, wireless networking, and network automation. They should also have experience configuring, implementing, and troubleshooting complex enterprise networks.
Benefits of CCNP Enterprise Certification
Earning the CCNP Enterprise certification can bring several benefits to network professionals, including:
Enhanced Knowledge and Skills: The CCNP Enterprise certification validates an individual's knowledge and skills in enterprise-level networking technologies, including routing and switching, wireless networking, network automation, and network security. This can enhance their ability to design, implement, and troubleshoot complex enterprise networks.
Career Advancement: Holding a CCNP Enterprise certification can help network professionals advance their careers by demonstrating their expertise in enterprise networking technologies. It may lead to more career prospects and higher pay.
Industry Recognition: The CCNP Enterprise certification is recognized and respected within the networking industry and can distinguish individuals from their peers.
Professional Growth: Preparing for and earning the CCNP Enterprise certification can help network professionals stay up-to-date on the latest networking technologies and trends, leading to professional growth and development.
Networking Opportunities: Being a CCNP Enterprise-certified professional can provide opportunities to connect and network with other certified professionals in the industry.
Conclusion
The CCNP Enterprise certification is valuable for network professionals who want to demonstrate their advanced knowledge and skills in enterprise-level networking technologies. This certification is designed for individuals with at least three to five years of experience working with complex enterprise networks. It requires candidates to pass two exams: the core exam and one concentration exam.
Earning the CCNP Enterprise certification can assist network professionals in advancing their careers by showing their knowledge of enterprise networking technology. This accreditation may result in increased pay and more career options.
However, candidates should be prepared to invest time and effort in preparing for the exams, as they cover a wide range of advanced networking concepts and technologies. Candidates should also remember that the CCNP Enterprise certification is subject to change as networking technologies evolve. So, they must stay up-to-date on industry developments to maintain their certification.