Azure Fundamentals (AZ-900)
The Azure Fundamentals certifications demonstrate a basic understanding of Azure-based cloud services. Furthermore, the AZ-900, or Azure Fundamentals, is for IT professionals who want to validate their understanding of the Microsoft Azure platform.
Which Azure Certifications Should You Pursue First?
When it comes to certificates, there are a variety of certifications and examinations to choose from, depending on your employment profile. However, for people who are new to Azure, the Azure Fundamentals certification is the best option. You must pass the AZ-900 fundamental level exam to do so. In addition, the AZ-900 test serves as a stepping stone for Azure associate and expert certifications.

Table 1-01-: Domains
What Is IoT (Internet of Things)?
The internet of things, or IoT, is a network of interconnected computing devices, mechanical and digital machinery, items, animals, and people with Unique Identifiers (UIDs) and the ability to transfer data without requiring human-to-human or human-to-computer interaction.
Organizations across a wide range of industries are increasingly turning to IoT to improve operational efficiency, better understand customers to provide better customer service, improve decision-making, and boost the value of their businesses.
Working
An IoT ecosystem is made up of web-enabled smart devices that gather, send, and act on data from their surroundings using embedded systems such as CPUs, sensors, and communication hardware. By connecting to an IoT gateway or other edge device, IoT devices can share sensor data that is either routed to the cloud for analysis or examined locally. These gadgets may occasionally communicate with one another and act on the information they receive. Although individuals can engage with the devices to set them up, give them instructions, or retrieve data, the gadgets do the majority of the work without human participation.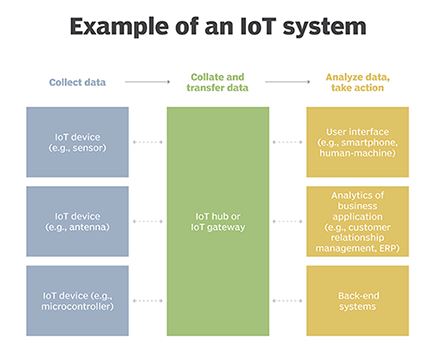 Figure 1-02-: IoT System
What Are The Advantages Of IoT For Businesses?
Organizations can benefit from the internet of things in a variety of ways. Some advantages are industry-specific, while others are relevant to a variety of industries. Some of the most prominent IoT advantages enable firms to:
They can keep track of their whole company processes, increase customer experience (CX).
Save time and money.
Boost staff productivity, integrate and adapt business models, make better business decisions, and earn more revenue.
The following are examples of IoT frameworks:
Amazon Web Services (AWS) IoT is an Amazon Cloud Computing Platform for IoT. This framework is intended to make it simple and secure for smart devices to connect to the AWS cloud and other connected devices.
Arm Mbed IoT is a platform for building IoT apps using Arm micro-controllers. By integrating Mbed tools and services, the Arm Mbed IoT platform aims to create a scalable, connected, and secure environment for IoT devices.
The Azure IoT Suite is a platform that consists of a set of services that allow users to interact with and receive data from their IoT devices, as well as perform various operations on data, such as multidimensional analysis, transformation, and aggregation, and visualize those operations in a business-friendly manner.
Fundamentals Of Azure AI (AI-900)
This test verifies that you have a solid understanding of Artificial Intelligence (AI), Machine Learning (ML), and the Azure services that support them. The following abilities are addressed:
Bot Services in Azure
Cognitive Services 
Azure Machine Learning
Why did I take the exams?
I've been working with technologies for some years and have created my internal processes and systems for getting things done. I hadn't taken a professional certification in a while, and this seemed like the ideal time.
Other factors included:
Accreditation 
Challenge 
Growth 
Learning
This AZ900 provides an opportunity to demonstrate your understanding of typical machine learning and artificial intelligence workloads, as well as how to deploy them on Azure.
Candidates with both technical and non-technical backgrounds are eligible to take this exam (AZ900). Experience with data science and software engineering is not essential; however, any programming knowledge or experience would be advantageous.
Other Azure role-based certifications, such as Azure Data Scientist Associate and Azure AI Engineer Associate, can be utilized to prepare for Azure AI Fundamentals.
The exam (AZ900) is for candidates who are new to Azure or who are just starting to work with cloud-based solutions and services.
The Azure Fundamentals (AZ900) exam allows you to demonstrate your understanding of cloud principles, Azure services, Azure workloads, Azure security and privacy, and Azure pricing and support. Candidates should have a basic understanding of technical fundamentals such as networking, storage, computation, application support, and development.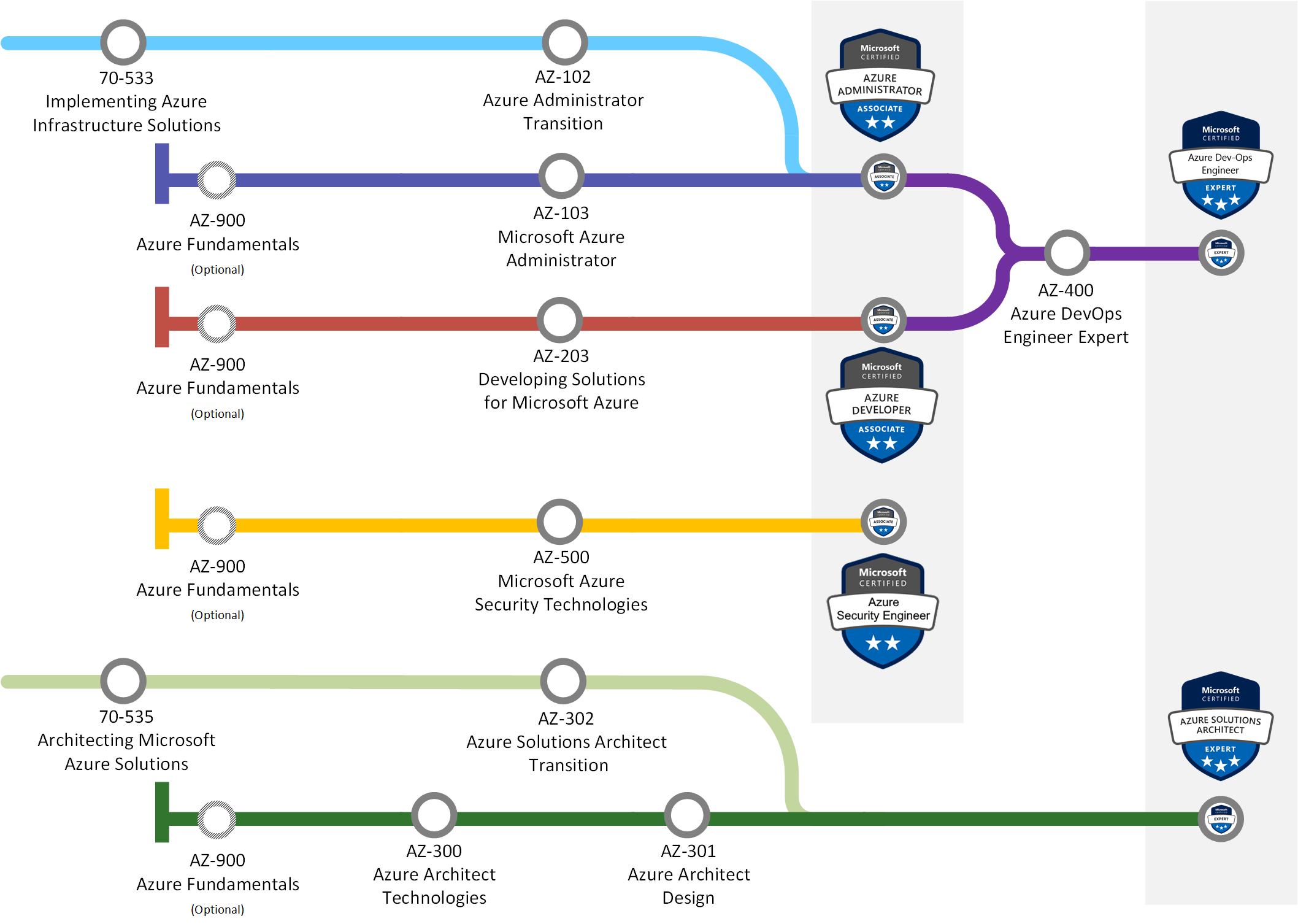 Figure 1-03-: Microsoft Azure Certifications
Microsoft SQL Database On Azure
Microsoft Azure SQL Database (previously SQL Azure, SQL Server Data Services, SQL Services, and Windows Azure SQL Database) is a Microsoft Azure managed cloud database (PaaS).
A cloud database is a database that is accessible as a service and runs on a cloud computing platform. Managed database services look after the database's scalability, backup, and high availability. In contrast to AWS RDS, which is a container service, Azure SQL Database is a managed database service.
Built-in intelligence in Microsoft Azure SQL Database learns app trends and adapts to enhance speed, dependability, and data security. It was first announced in 2009, and it was finally launched in 2010.
Examples Of Common Applications
Storage of relational data for cloud-based apps and websites.
Web and mobile apps for businesses and consumers.
Manage databases for apps with multiple tenants (software-as-a-service).
Create development and test databases quickly to shorten development cycles.
Scale production business services at a predictable cost.
Outsource database management to focus on value-added services.
Containerizing data in the cloud for isolation and security.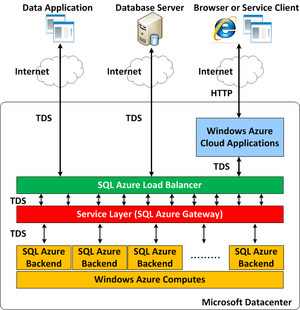 Figure 1-04-: Microsoft SQL Database
What Exactly Is Azure?
Azure is a free and open-source cloud platform that aids in development, service hosting, management, and data storage. With the support of Microsoft data centers, the Azure cloud computing technology hosts web applications over the internet.
What Exactly Is AWS?
AWS is a widely used secure cloud services platform that provides computing power, content delivery, database storage, and other features to help businesses scale and thrive.
AZURE AND AWS 
Although both Azure and AWS offer a hybrid cloud, Azure does it better.
Express routes are available on Azure, whereas direct connections are available on AWS.
AWS security is supplied via specified roles with access management, whereas Azure security is delivered by granting rights to the entire account.
Azure machines are organized into cloud services and answer to the same domain name with different ports, whereas AWS machines can be reached individually.
AWS has a Virtual Private Cloud, whereas Azure has a virtual network cloud.
There are 140 availability zones in Azure, compared to 61 in AWS.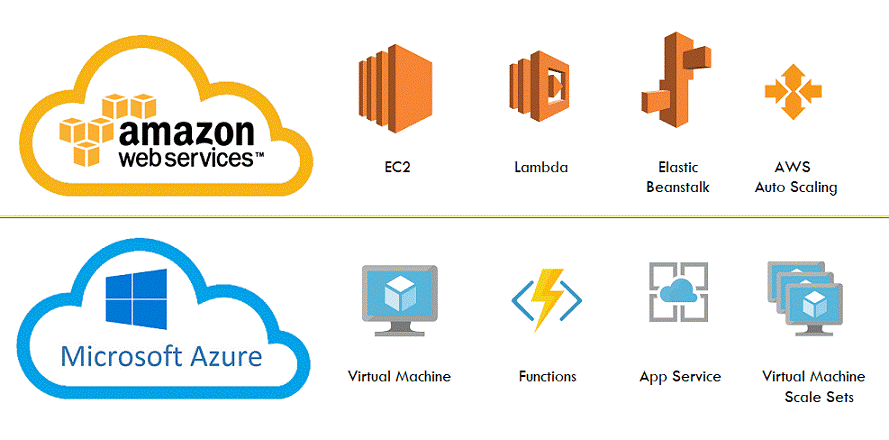 Figure 1-05-:  Azure and AWS
MULTI-FACTOR AUTHENTICATION
When a user must give two or more pieces of evidence to validate their identity to obtain access to an app or digital resource, this is known as multi-factor authentication. Multi-factor authentication, or MFA, is a security measure that verifies that digital users are who they claim to be.
Features Of General Security And Network Security
In today's digital environment, having a solid security strategy is critical. Security must be built into every application and service, whether on-premises or in the cloud. Application-level security, data-level security, and network-level security are all required. Furthermore, this domain is focused on the Azure security features like Azure Security Center, including policy compliance, security alerts, secure score, and resource hygiene. Also, it includes the usage of Key Vault, Azure Sentinel, and Azure Dedicated Hosts. This domain also includes Azure network security topics such as the concept of defense, functionality, and usage of Network Security Groups (NSG), Azure Firewall, and Azure DDoS protection.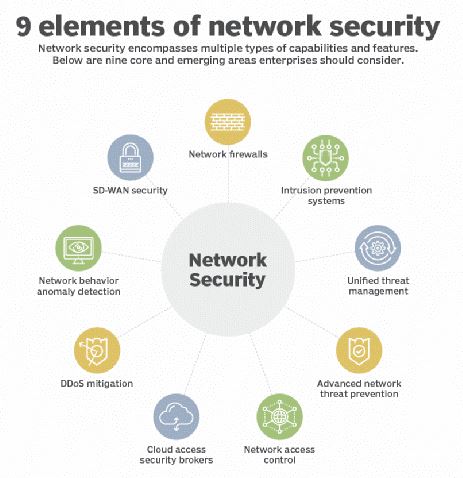 Figure 1-06-: Elements of Network Security
IPSpecialist is the ideal place to go if you're seeking Microsoft Azure Certification Exam. It can help you in your career. So, what exactly is IPSpecialist? IPSpecialist is your answer for all of your issues. Online courses, study guides, e-books, practice questions, and quick reference sheets are just a few of the services we provide. IPSpecialist is an e-learning platform that offers online training and career counseling to help you advance in your profession. Take a look at our Third Edition of AZ – 900 Microsoft Azure Fundamentals which is updated according to the new exam blueprint!