Introduction
The managed, cloud-based Azure Firewall service secures the Azure Virtual Network resources. Users may centrally manage and monitor the Azure Firewalls with Azure Firewall Manager, a cloud-based tool. It gives them insight into the data passing through the firewalls, enables speedy problem-solving, and aids in upholding compliance with corporate and regulatory rules.
By offering a unified view of all the firewalls in one location, Azure Firewall Manager makes it easier to manage the Azure Firewalls. Users may use it to quickly address problems, discover and analyze suspicious behavior, and keep an eye on the state of the firewalls.
It is also simple to comply with business due to Azure Firewall Manager. It allows users to track and audit changes to firewall setups and establish and enforce firewall rules across the business. This article covers detailed knowledge of Azure Firewall Manager.
Check out our Azure Courses now if you want to start your career in Microsoft Azure.
Azure Firewall Manager Features
Azure Firewall Manager offers the following features:
Central Azure Firewall Deployment and Configuration
Multiple Azure Firewall instances that span various Azure regions and subscriptions can be centrally deployed and configured.
Hierarchical Policies (Global and Local
To manage Azure Firewall policies across numerous secured virtual hubs, utilize Azure Firewall Manager. To implement organization-wide firewall policies across teams, the central IT staff can create global firewall policies. Locally created firewall rules enable an agile DevOps self-service paradigm.
Integrated with Third-Party Security-as-a-Service for Advanced Security
To provide more network security for the VNet and branch Internet connections, users can integrate third-party Security as a Service (SECaaS) providers in addition to Azure Firewall.
Centralized Route Management

Users can easily route traffic to the secured hub for filtering and logging without manually configuring User Defined Routes (UDR) on spoke virtual networks.
Only deployed protected virtual hubs can use this capability.
Azure Firewall Manager Architecture Options
For two different network architecture types, Azure Firewall Manager can offer security management services:
A Microsoft-managed resource called an Azure Virtual WAN Hub makes it simple to build hub-and-spoke architectures. A secured virtual hub has routing and security policies attached to it.
A hub virtual network is what is used when such a hub has security policies attached to it. Only Azure Firewall Policy is supported at the moment. Virtual networks, including the workload servers and services, can be peer-to-peer connected.
How Azure Firewall Manager works?
The diagram below displays a basic setup. It has a top-level global administrator who develops and connects policies. These rules apply to two hub virtual networks as well as a secured virtual hub. Additionally, a local administrator can set up and link policies with one of the hub virtual networks.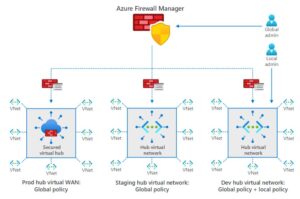 Rules and settings in Azure Firewall policies regulate traffic to and from protected resources. You will discover what in this module:
Threat intelligence settings, policies, and rules for Azure Firewall.
Rule Processing
Activities that Firewall Manager can carry out.
 Benefits of Azure Firewall Manager
The cloud-based network security management tool Azure Firewall Manager enables users to provision and control Azure Firewalls at scale. It offers a single point of management for managing the Azure firewall deployment, making it simple to set up and manage several firewalls throughout the company. Use Azure Firewall Manager if one wants to:
Centralized provisioning and management of Azure Firewalls
Implement uniform security rules throughout the organization
Track resource utilization and firewall activity in one location
Azure Firewall Manager is appropriate for businesses that need to create and administer many Azure Firewalls
It is also a fantastic option for providers who give their clients managed firewall services
Drawbacks of Azure Firewall Manager
It requires an Azure subscription
It does not support all Azure regions
It cannot be used to manage on-premises or hybrid deployments
Finally, it does not currently support Azure Private Link
Applications of Azure Firewall Manager
Users can centrally set up and manage their Azure firewall policies with the aid of Azure Firewall Manager, a cloud-based security management tool. It gives users a summary of the firewall deployments and allows them to apply uniform security settings to numerous Azure firewalls.
By offering rule templates and pre-configured rule groups, Firewall Manager also makes it easier to create and manage network security rules. With these rule groups, it can quickly deploy frequently used security configurations, such as those for SQL servers or web applications.
With Firewall Manager, users can:
* Monitor the Azure firewalls' status in one location
* Apply uniform security standards to various Azure firewalls
* Establish and maintain network security policies
* Use pre-configured rule groups and templates to deploy frequently used security configurations
* Quickly get going using pre-built rule templates and rule groups.
 Pricing details

Azure Security Baseline for Azure Firewall Manager
The Microsoft cloud security benchmark offers suggestions for securing Azure-based cloud solutions. The content is organized according to the security measures outlined in the Microsoft cloud security benchmark and any appropriate Azure Firewall Manager instructions.
Microsoft Defender for Cloud can monitor this security baseline and its recommendations.
Conclusion
The network security of the Azure resources can be effectively managed centrally with Azure Firewall Manager. It makes it simple to maintain the Security of the network by offering a single point of management for managing firewall rules and configurations across many Azure firewalls. Without having to individually set up each firewall, users can quickly and effectively manage the network security of the Azure resources using Azure Firewall Manager.